In Key Stage 1 the National Curriculum subjects are taught through a cross-curricular approach. Each term learning focuses on a particular theme. We have a question based format where children are presented with a question each week and learning opportunities are planned that help the children to answer the question.
In Key Stage 1 Theme lessons take place two times each week and are taught in mixed ability classes with their class teacher. Learning is differentiated to match the children's knowledge, skills and progress. Each class teacher also links the class role-play area to the Theme for each half term and provides opportunities to learn about the current Theme through imaginative play. In addition links are made with other lessons such as English, Maths, PE, Art, Geography and computing to ensure that children are fully engaged with the Theme.
To ensure thorough coverage of the Key Stage 1 Science curriculum, one Theme each term will have a Science focus where children will learn the content of the Science curriculum and learn about scientific enquiry.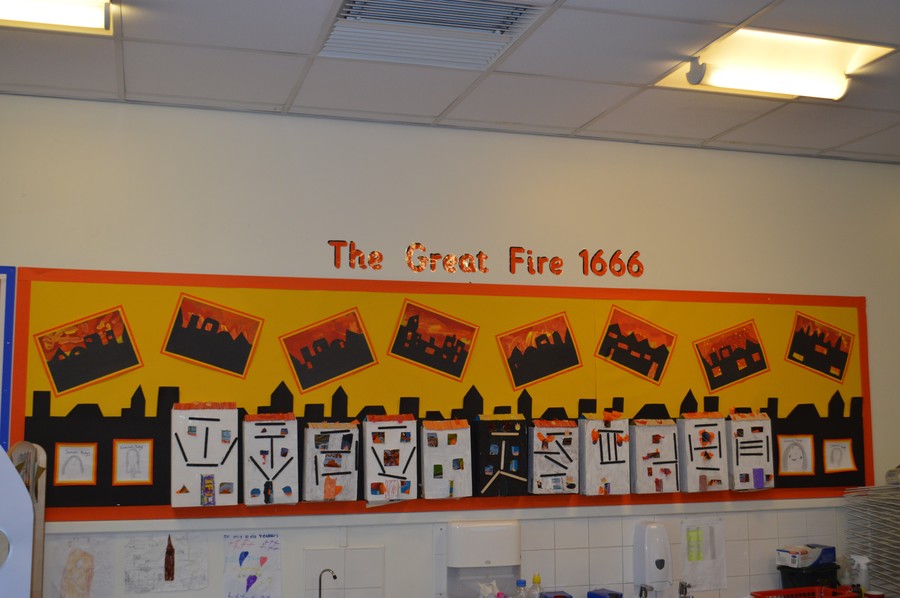 Below details what Themes and questions the children will be learning over the next term. Details of the other themes that the children cover over our two year cycle can be found on the curriculum pages.
You might like to read more about how we design our curriculum on the Curriculum Design page.
***During school closures due to the corona virus outbreak, some of the work that the children learn may vary slightly to suit home learning.***
Summer Term - First Half term
Could Jack Really Climb a Beanstalk?
Week 1 - How did Jack's beanstalk grow?
An introduction to plants – label the external parts of a plant, including trees; begin to look at how plants germinate and begin to grow; plant own beans to grow and keep a growth diary in class; look at the stages of germination and growth; begin to think about what plants need to grow.
Week 2 - Which plant will win?
Recap what a plant needs to grow; plan an investigation to see what would happen if a plant didn't have water; carry out investigation and record observations over time; identify things that are living, dead or never lived.
Week 3 - Where do plants grow?
Recap what plants need to grow. Look at the name of some common plants familiar to the children e.g. grass, daisy, dandelion etc; Look at the habitat/ microhabitats where they are found and why. Look at a range of other habitats where plants grow and why they are suited to that habitat.
Week 4 - How do we care for plants?
Look at ways to help maintain our school environment and that plants are living things too; recap what plants need to grow, finish investigation by collecting more observations and drawing conclusions; present data.
Plant other seeds/bulbs based on what we have discovered about plants needs/how to care for them.
Week 5 - Can you eat plants from the garden?
Recap the parts of a plant, which parts are used for food e.g. leaves – lettuce, carrot – root, seed – beans. Have safety discussions is it ok to pick things and eat them?
What could we cook using beans? Children cook a dish using beans. Look at a healthy diet and how much of the healthy food we need comes from plants.
Week 6 - Create a class information book about plants.
Summer Term - Second Half term
Where Do Pandas Come From?
Week 1 - Where in the world is Leeds?
Discuss the climate and main physical/human features of Leeds - recap what the children already know as well as introduce new vocabulary.
Week 2 - Where is Bejiing?
Identify Beijing on a world map. Name the country and continent that it is in. Discuss the climate and physical/human features of Beijing.
Week 3 - What is at the Yorkshire Wildlife Park?
What different types of animal are there? Endangered animal focus - discuss what this means.
Week 4 - What would it be like to live in Bejiing?
Look in more detail at life in Beijing. Look at clothes, food eaten, jobs etc and compare this to our own ways of life.
Week 5 - Where do Pandas come from?
Locate panda region on a map China. Study physical features of Sichuan Compare to Beijing. Link to discussion already had about endangered animals and what makes them become endangered.
Week 6 - What do Pandas eat?
Link to habitat - bamboo forests. Discuss the impact of deforestation. Link to English lessons and create a report or factfile.
Week 7- Can we make a toy panda?
Design and make mini 'stuffed' pandas using fabric. Evaluate their finished product against their design.
You might also like to look at the Key Stage One page about Homework and what we are learning this term.