This Term
Below you will find information about what the classes in Year 5 and 6 are learning about this term. You might also like to view our Homework page for ways that you can support learning at home.
English
To begin this term Years 5 and 6 will be studying journalistic writing. In this unit children will focus on understanding the features of newspaper reports. They will be writing their own newspaper reports which relate to our Space topic. This will be followed by a unit about Greek myths where children will learn the story of Icarus. After half term we will complete another fiction unit focused on writing adventure stories and will conclude the autumn term with a non chronological report about the Yorkshire Dales and the North East USA which links to our geography topic. All our English units this term will include work on grammar which is integral to ensuring our teaching reflects the new curriculum. We will also complete short, daily Read Write Inc. spelling lessons which had an extremely positive impact at the end of last year. Each child will complete an adult led guided reading session each week and will also have time to complete independent reading activities,
Maths
The children will be studying a range of concepts and calculations focused on number. This will include place value and properties of numbers; different mental and written methods for addition, subtraction, multiplication and division; word problems and number puzzles; and decimals, fractions and percentages. In addition to this, the children will continue with regular Mental Maths and number games throughout the term. As well this essential number work, the children will also work on 2D and 3D shapes including learning more about angles, perimeter and area; they will learn how different units of measure relate to one another and apply these in everyday situations. The children will also work on data handling activities, collecting and presenting information and Year 6 will work on ratio and algebra.
Topic
The first half of this term will be a history topic based on the Ancient Greeks. It will focus on how the Greeks used to live and what we learnt from their civilisation. We will also spend time studying sources and understanding how we have learnt about this period . To enhance the children's learning during this topic we have booked a visit from an 'Ancient Greek Man' who will visit and share his knowledge. The second half of this term will be a new geography topic where the children will compare two contrasting locations. They will learn more about The Yorkshire Dales, and North East USA comparing their human and physical features and the similarities and differences between them. More details about both our topic can be found on the 5/6 topic page.
Science
The first half term will be physics unit about Earth and Space focusing on the solar system, how the Earth moves around the sun to cause day and night and the seasons. After half term we will learn about Evolution and Inheritance.
Computing
The term will start with a focus on basic skills. This unit will contain lessons relating to organising folders, word processing, use of the Internet, e-mail and search engines and the importance of E-Safety. The next unit that will run until Christmas is based upon coding and programming. This will be done through Espresso where pupils will use a step by step program in order to design and make their own games.
..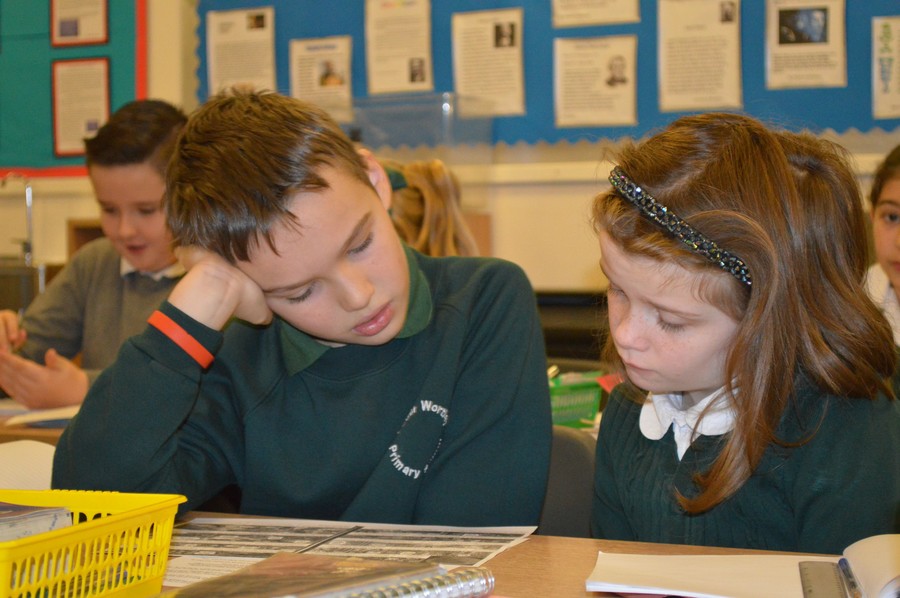 PE
In this term pupils will complete a invasion games unit based around football, netball and ultimate frisbee. It will involve playing many games which teach balance, co-ordination and spatial awareness as well as learning some tactics and sport specific skills such as dribbling and passing. As well as that, they will complete a dance unit based on the story of Theseus and the Minotaur. After half term children will complete real PE unit with a focus on core balance and based around adaptations of games such as volleyball and handball.
Art / DT
The children will begin this term with a DT unit focused on Greek food. They will learn what the Anicent Greeks used to make food and make two dishes carefully considering nutritional value and sustainable ingredients. In art after half term children will focus on painting, looking particularly at landscapes from the Yorkshire Dales.
RE
The children consider how Sikhs show commitment this term and look at how some of this can link to decisions and commitments they make in their own lives. After half term there will be a focus on how growing up bring different responsibilities.
Music
The children will begin this term by looking at the song 'Dancing in the Street' before singing some songs from the BBC series 'Heroes of Troy' which links to our topic. The term will conclude with a lot of singing in preparation for the pantomime and the Christmas carol service.
Life Curriculum
This term pupils will be focusing on new beginnings. As a class the children will come up with rules on how to behave in school, they will learn strategies on how to make friends, maintain relationships and the need to be kind and respectful to children and adults. After half term they will consider the topic of drugs: both medical and recreational. They will have a particular focus on the dangers of alcohol.
French
Children will continue to develop their knowledge of conversational French throughout this term. In addition, they will be learning about the planets and different vocabulary which can be used to describe them. They will then complete a unit of work about the seasons.