This Term
Below you will find information about what the classes in Year 5 and 6 are learning about this term. You might also like to view our Homework page for ways that you can support learning at home.
English
To begin this term Years 5 and 6 will be studying the story of 'The Boy Who Cried Wolf.' They will rewrite this as a newspaper article and then write their own stories in the first and then the third person. Throughout this unit there will be a particular focus on sentence structure and use of different openers.
Following half term Year Five and Six will be taught separately as Year Six spend time preparing for national tests and refining all their skills in time for transition to High School. They will particularly focus on grammar and the ability to read and decode texts. Year Five will learn and study a narrow escape story called 'The Canal' followed by a unit of work on the narrative poem 'The Highwayman' by Alfred Noyes
Maths
The children will be studying a range of concepts and calculations focused on number. This will include place value and properties of numbers; different mental and written methods for addition, subtraction, multiplication and division; word problems and number puzzles; and decimals, fractions and percentages. In addition to this, the children will continue with regular Mental Maths and number games throughout the term. As well this essential number work, the children will also work on 2D and 3D shapes including learning more about angles, perimeter and area; they will learn how different units of measure relate to one another and apply these in everyday situations. The children will also work on data handling activities, collecting and presenting information and Year 6 will work on ratio and algebra.
After half term groups will change as Year Six begin preparations for their national tests.

Topic
The first half of this term will be a history topic looking at how the Mayan civilisation developed and what caused it to collapse. It will contain elements of geography but will mainly focus on comparing the Maya to other civilisations the children have studied such as the Egyptians and the Vikings. Time will be spent studying how we have found out about the Maya, what we have learnt from them and how advanced they were. The second half of this term will be an art topic where the children will learn what sort of skills they need to become a famous artist. They will study a range of artist's work and practise and refine their own skills. More details about both our topic can be found on the 5/6 topic page.

Computing
The term will start with children developing their skills using Microsoft PowerPoint to present information. This unit will teach children the basics of PowerPoint and how to compile an effective presentation. It will also look into more advanced techniques such as using animations and adding timings to their work. The next unit that will run until Easter is a continuation of the work we began on coding and programming. This will be done through Espresso where pupils will use a step by step program in order to design and make their own games.

PE
In this term pupils will complete dance, gymnastics and games units. Gymnastics will focus on teaching new jumps and leaps along with an overall emphasis on presentation. Dance will be primarily learning country dancing routines.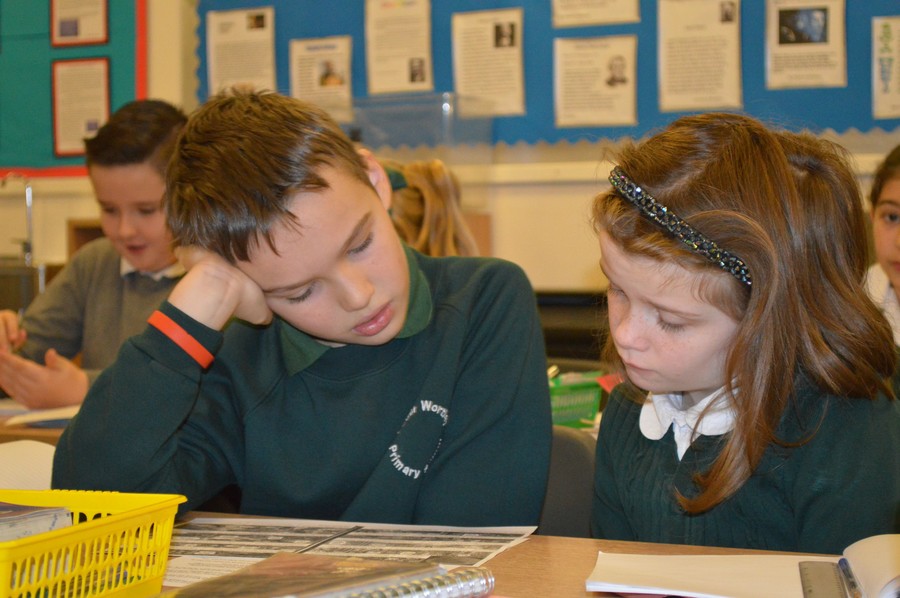 Science
In this term pupils will learn about materials. They will investigate change in states of materials, reversible and irreversible changes and how different materials react. A lot of this unit will involve children carrying out practical experiments and recording their observations. After half term Year Five will study plants, animals and the human body while Year Six revisit the science primary school curriculum in order to prepare them for high school.
Geography
Year Five will complete a basic skills unit focusing on map work. They will learn where the continents and major countries and cities in the world are focusing particularly on Europe and North and South America. They will also learn to use grid references and local maps and symbols.
RE
The children will spend time this term thinking about what it means to belong to different religions. They will learn to empathise with other people's beliefs and fully understand the way people from a variety of religions choose to live their lives.

Music
The children will learn to play the Ukulele after Christmas. They will begin by learning how to hold the instrument and strum the strings. Eventually they will learn to play simple chords in time to familiar songs.

PSHE
This term pupils will complete a unit on growing up and changing. As a class the children will explore how their body will change as they grow up, they will learn strategies on how to cope with these changes and the importance of personal hygiene. In addition to this, children will undertake lessons relating to sex and relationships. These will be constructed in a sensitive manner using suggested materials and taught in gender groups.

French
Children will continue to develop their knowledge of conversational French throughout this term. In addition, they will be learning about musical vocabulary and also language relating to food.