This Term
Below you will find information about what the Nursery classes are learning about this term.
Please also read our topic page to find out more about our Topic Work.
Communication and Language Development
We discuss our question of the day at snack time through a circle time approach. This develops children's communication and language; we also have time to share our news with peers. Every week we will send a talk ticket via SCHOOP, this is linked to our learning in Nursery and we will share these with our peers back in Nursery. Throughout the term children will listen to stories, participate in small group games, activities and singing to develop their communication, interaction and listening skills.
Personal, Social and Emotional Development.
This term we will continue to develop children's independence through putting their own coats on and fastening where possible, using the toilet independently, washing their hands and using the water fountain. Children have access to a visual timetable to reassure them of the structure of the Nursery session. Children are encouraged to recognise their feelings through our emotions board where children will learn the words to label their emotions correctly. We will focus on emotions through our work on Snow White and the Seven Dwarfs in Spring 2. Staff will spend time talking and listening to the children, building relationships and developing children's confidence. Staff will model play throughout our provision to enable children to use the resources independently. We continually reinforce the Nursery rules and routines. Our positive behaviour management strategies include our high five, super star chart, star of the day, stickers and specific praise. We will introduce more 'Achievosaurs' to the children to support them in recognising the characteristics of effective learning. Each session children spend snack time in their key worker group where one child is chosen to be the milk and one to be the fruit monitor and give out the snack to their peers. Children put their own straws in their milk to develop their independence.
Physical Development
Our movement room continues to be very popular with the children and we have recently purchased new lights and tinsel to enhance this area which supports children's physical development. We also have a specific focus weekly to develop fine motor control in our funky fingers area. Gross and fine motor skills are developed through all our provision such as ribbon sticks, weaving, hoops, threading beads, peg boards, writing in crazy foam, tracing on tactile letters, using the interactive white board, using tweezers to pick up small objects and building with bricks. We have introduced the children to yoga and 'dough disco' and are aiming to complete regular sessions linked to our theme which the children are enjoying. We will promote healthy eating through our snack time and cooking focuses.
Literacy
We have a specific mark making area with a range of mark making resources and super hero writing capes which encourage the children to mark make with super powers. We also have mark making proformas throughout our role-play provision in the Home Corner; our Toy Shop and Garage during Spring 1 and in our Garden Centre and outdoor Building Site during Spring 2. We have labels and signing in sheets for other areas. Focus mark making activities will include writing labels for plants and dinosaurs, making Mothers Day and Easter cards and creating posters and invitations for our end of term Ball. We have already started phase one letters and sounds activities and will move on to introducing letter sounds as appropriate using the Jolly Phonics stories. We also use the 'read write inc' formation rhymes to support children in using the correct letter formation.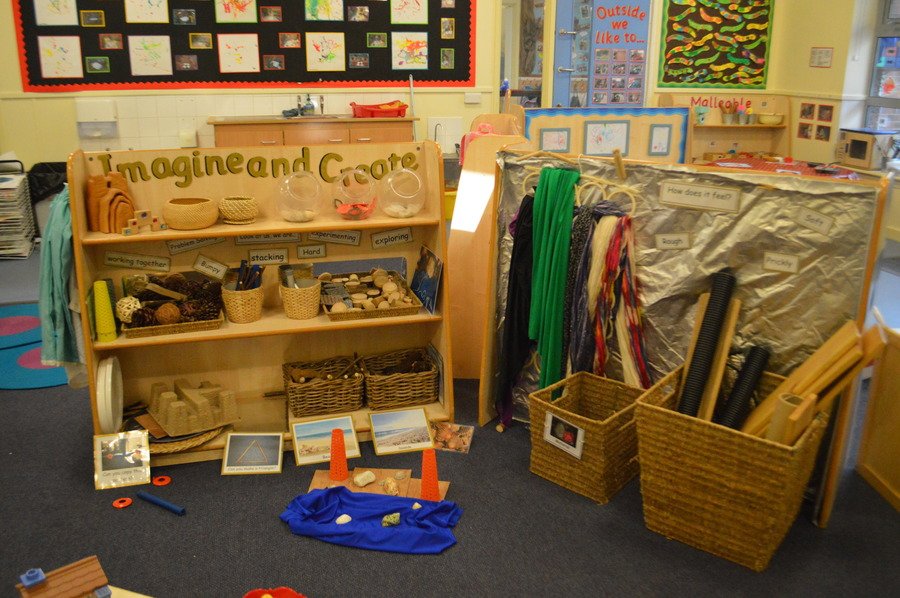 Literacy (Continued)
We discuss the importance of using the correct pencil grasp. Rings will be available in the mark making area for children to put on their index finger so they can grasp the pen correctly to draw circles and then their name. To support children in recognising and writing their name every child has a name card which they can access independently. Children continue to sign into Nursery with their parents/carers at the start of each session using their name cards and answering the question of the day. We have a daily story time, during the Spring term our talk for writing units are 'Brown Bear, Brown Bear' and 'The Bad Tempered Ladybird.' We also have a library where children can sign out books to take home to share. This term our focus rhymes are 'The Grand Old Duke' and 'Humpty Dumpty.'
Mathematics
Children will learn about shape and space through provision in the sand, malleable, water and construction areas and will go on a hunt around school to look for shapes in the environment. Children will measure themselves to discover who is the tallest and will measure objects around our Nursery. We will also learn about size through the story 'Goldilocks and the 3 Bears'. We continue our 'Star Numbers' throughout the year. Children are encouraged to complete several activities relating to this including recognising the number and its value in numicon - which is a resource used throughout the foundation stage. Children will practise number formation in crazy foam, coloured sand, glitter and paint. We will complete jigsaws, maths games and contribute towards making number lines for our provision areas including a beanstalk.
Understanding the World
We will celebrate cultural events at Nursery including tasting pancakes and identifying our favourite topping on Shrove Tuesday; making lanterns and cards and tasting Chinese food for the Chinese New Year. Children will make cards for Mothers Day and Easter. All children will be involved in planting activities including planting seeds and recognising the changes that take place. Children have daily access to the computers, interactive whiteboard, light panel and the listening centre. They will use the ipad in focus activities to take their own photographs.
Creative Development
Children are encouraged to develop their own creativity throughout Nursery. Specific focuses to support children's creative development include making puppets, creating box craft robots, painting dinosaurs, colour mixing with powder paints, making homes for super heroes, designing costumes, creating crowns and tiaras, box craft modelling, using the puppet theatre, creating music on the music wall and dance mat. Children will continue to use their own mini me's to support their imaginative play in the construction and small world areas. We will have a performance area inside for children to display their superhero powers and perform to peers.