This Term
Below you will find information about what the Nursery classes are learning about this term.
Please also read our topic page to find out more about our Topic Work.
Communication and Language Development
Each day we continue to have a question which we discuss at snack time through a circle time approach and we share our news with peers. Every week children take home a talk ticket, which is a question linked to our work in Nursery to discuss at home. We share these with our peers back in Nursery. Children listen to stories, participate in small group games and activities with puppets and singing to develop their communication, interaction and listening skills.
Personal, Social and Emotional Development.
The children continue to respond well to our positive behaviour management strategies including our superstar star chart, high five, star of the day, stickers, certificates and specific praise. Children are showing increasing confidence in relating to our achievosaurs, sharing their news and creating amazing work for our WOW wall. Each session children continue to spend snack time in their key worker groups. This term the children due to start Reception classes in September will be participating in transition visits to their new classes, their new teachers will visit them in Nursery and they will have the opportunity to try a school dinner.
Physical Development
The movement play room is an integral part of our continuous provision where it provides excellent provision for the children to develop their physical skills. Each week we have a focus in our 'Funky Fingers' area to develop children's fine motor control. Activities this half term include printing caterpillars with pegs and pom poms, threading mini beasts and leaves, fastening nuts and bolts, squeezing pipettes using tweezers to free mini beasts from webs and weaving. Outside we will be developing our gross motor control through mini beast dance with movement resources on the stage, balancing on the beams and stilts, and practising ball skills.
We will also practise races in preparation for our Nursery Sports Day.
Literacy
We have super hero writing capes which encourage the children to mark make with super powers using a variety of mark making equipment. In addition to our mark making area we have mark making proformas throughout our provision. We discuss the importance of using the correct pencil grasp and use the 'Read Write Inc' formation rhymes to support children in using the correct letter formation. To support children in writing their name every child has a name card which they can access independently. Children sign into Nursery with their parents/carers at the start of each session by answering the question of the day. We are continuing to introduce sounds through the Letters and Sounds scheme using the Jolly Phonics stories. Some children are now beginning to blend sounds to read words. We have a daily story time where we share stories linked to our theme and literacy spine. 'The Very Hungry Caterpillar' is our Talk for Writing unit this term. Children will be encouraged to retell the story on our story map and use the toolkit to support our work around this. Focus activities this half term include creating our own story maps for 'The Very Hungry Caterpillar' and beginning to write words to represent objects. This half term our focus Nursery rhyme will be "Wind the Bobbin up".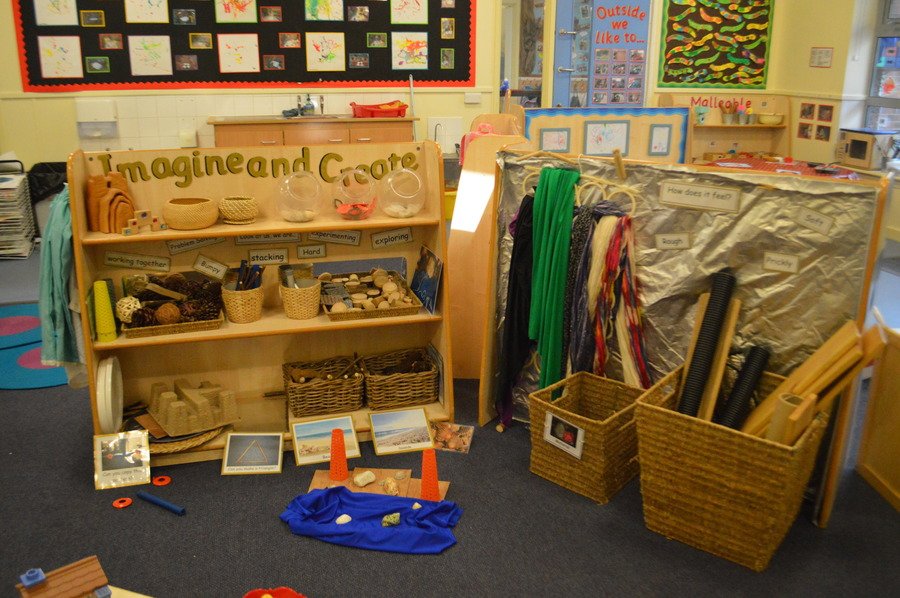 Mathematics
Children are encouraged to complete several activities relating to our star number including saying the rhyme, recognising the number and its value in Numicon. Children will practise number formation in crazy foam, rice, glitter and paint. We are continuing to look at one more and one less than a given number. Through practical activities children will begin to add groups of objects together using our new adding machine. We are also completing learning linked to shape, size, capacity, pattern and position through our theme work about mini beasts.
Understanding the World
During our 'mini beast' theme children will learn facts about different mini beasts and look for them in our Nursery playground. Children will take photos of the mini beasts they find as part of our technology work. Children will look at the changes which take place as we observe the growth of caterpillars and the behaviour of snails and worms. Through our role-play supermarket children will learn about different foods, we will print and taste fruit and talk about healthy foods and those which are less healthy. Our food technology focuses this term include making sandwiches, baking biscuits and icing biscuits. Children will continue to have daily access to the computers, interactive whiteboard, bee bots and light panel.
Creative Development
Children will create their own representations of mini beasts through a choice of media. They will design and make them from paper plates and create them from fimo. Children will have the opportunity to explore musical instruments and to listen and respond to music on our outdoor stage. Enhancements to our provision will include a Supermarket indoors and a mini beast investigation area where we will observe caterpillars, snails, worms and mini beasts. We will also have several focus activities in our 'Explorers Den' outside.