This Term
Below you will find information about what the Nursery classes are learning about this term.
Please also read our topic page to find out more about our Topic Work.
***During school closures due to the corona virus outbreak, some of the work that the children learn may vary slightly to suit home learning.***
Communication and Language Development
We discuss our question of the day at snack time through a circle time approach and children share their news with peers. There is a communication and language focus for each day that is set during home learning to support language development. We learn new words within our provision through adult modelling to extend children's vocabulary further. Vocabulary linked to our theme this term whilst children are at home will be shared with parents. Throughout the term children will listen to stories, participate in small group games, activities and singing to develop their communication, interaction and listening skills. The children will regularly use telephones in role-play scenarios, something that could also be done at home. This term we are learning Makaton signs for 'I can sing a Rainbow'.
Personal, Social and Emotional Development.
Children have access to a visual timetable to reassure them of the structure of the Nursery session. Staff spend time talking and listening to the children, building relationships and developing children's confidence. Staff will model play throughout our provision to enable children to use the resources independently. Whilst the children are learning at home it may help to have a daily routine for learning during the week and having time to play independently as they would at Nursery will support their learning too. Children are encouraged to recognise their feelings through our emotions board and stories, where children learn the words to label their emotions correctly. This half term we are having an 'Elmer Day' where children are dressing in bright clothes to celebrate how they are all different and special just like Elmer. Children can still do this from home if they wish to join in and details will be sent home about this. We are also learning about friends and how to be a good friend. We continually reinforce the Nursery rules and routines. Our positive behaviour management strategies include the 'Achievosaurs', high five, super star chart, star of the day, stickers and specific praise. Each session children spend snack time in their key worker group where one child is chosen to be the fruit monitor and share the snack with their peers. Enjoying healthy snacks is something that children can still continue at home .
Physical Development
Our movement room continues to be popular with the children and supports their physical development. We also have a weekly focus to develop fine motor control in our funky fingers area. Gross and fine motor skills are developed throughout our provision such as ribbon sticks, weaving, hoops, threading beads, peg boards, writing in crazy foam, tracing on tactile letters, using the interactive white board, molding dough and using tweezers to pick up small objects and building with bricks. Suggestions on howto develop children's fine motor control each week is set as part of our home learning. We continue to complete regular yoga sessions linked to our theme and promote healthy eating through discussions during our snack time and cooking focuses. Appropriate links to the yoga sessions that fit with our theme will be shared on the home learning sheets.
Literacy
We have a specific mark making area with a range of mark making resources and super hero writing capes which encourage the children to mark make with their 'super powers'. We also have mark making proformas throughout our role-play provision in the Home corner, Vets, and in our outdoor Building Site and Jungle Hide. Focus mark making activities will include writing about bears and other creatures we may find in a cave, labelling and writing about jungle animals, and writing letters and messages to 'The Tiger Who Came to Tea'.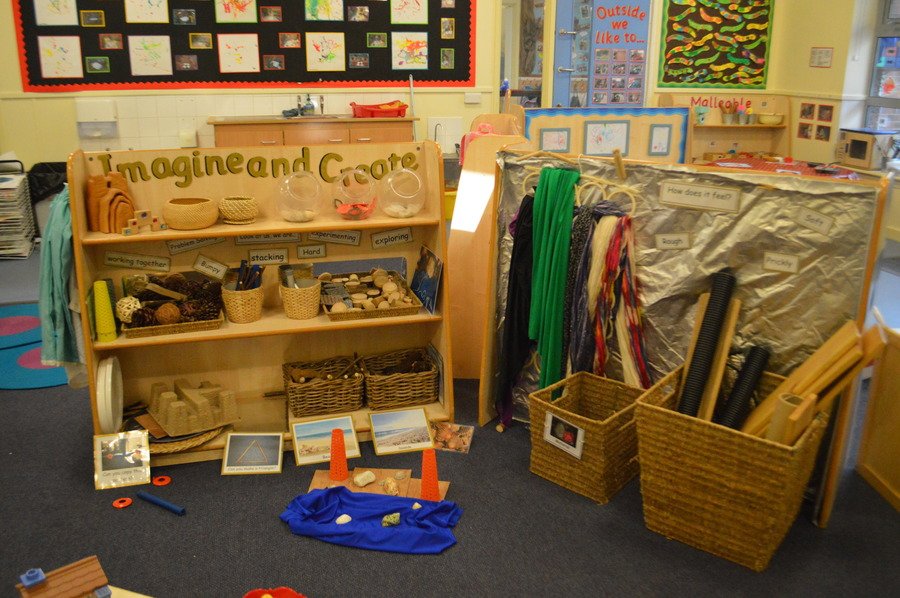 Literacy (Continued)
We are introducing phonics through our letters and sounds sessions using the Jolly Phonics stories. Some children will move on to blending letter sounds together to read simple words. In addition to this we discuss the importance of a comfortable pencil grasp and are using the 'read write inc' formation rhymes to support children in developing the correct letter formation. To support children in recognising and writing their name every child has a name card which they can access independently. A duplicate name card was sent home with children's home learning books. Children would usually sign into Nursery with their parents/carers at the start of each session by answering the question of the day, but you can continue to practise name writing at home! We have a daily story time and for this half term our book corner is enhanced with a canopy, cushions and soft toy jungle animals for children to read with. During this half term our talk for writing unit is 'We're Going on a Bear Hunt'. This term our focus rhyme is 'Five little monkeys jumping on the bed'.
Mathematics
Children usually learn about shape and space through provision in the sand, malleable, water and construction areas at Nursery. This can be done in practical ways at home too and ideas of how to do this will be sent via our home learning throughout the half term. Through our work on Elmer children will explore patterns; they will also create repeating patterns on snake templates. Children will be encouraged to order numerals to ten and introduced to addition and subtraction through a range of practical activities. We regularly change our star number. Children are encouraged to complete several activities relating to this including recognising the number and its value in Numicon. Children will practise number formation rhymes using a range of mark making equipment. We will complete jigsaws, maths games and contribute towards making number tracks for our provision areas. If children remain at home, then this might be set as a home learning challenge - make your own number tracks!
Understanding the World
We will observe the changes that take place during the seasons of spring and summer. All children will be involved in planting and taking care of flowers in our outdoor area. If you have a garden at home the children may wish to help in caring for plants or they maybe helping to look after their bean plant indoors. Through our 'Jungle' theme children will learn about the different animals that live in the jungle and the habitats in which they live. Children have daily access to the computers, interactive whiteboard and light panel whilst at Nursery. They will use the ipad during focus activities to take their own photographs and will create pictures using Dazzle. Whilst we are learning from home children can learn about technology within the home and some specific activities relating to this will be set via the home learning sheets. Children may also wish to access games on an ipad or tablet. Whilst we are learning from home children may wish to make their own 'Time capsule' to record their part of history.
Creative Development
Children are encouraged to develop their own creativity throughout Nursery. Specific focuses to support children's creative development include colour mixing, painting animals, creating box craft models and paper plate animal masks. Children will use construction equipment to make homes for animals. They will have opportunities to develop their own stories using the puppet theatre and create music on the music wall and dance mat. Many of these creative activities can be transferred to our learning from home. Children will continue to use their own mini me's to support their imaginative play in the construction and small world areas. The mini me's are popular at Nursery, they are laminated cut out photos of the children. Parents and carers may wish to make some mini me's at home of your family so that the children can use them in their imaginative play.