This term
Below you will find information about what the Reception classes are learning about this term. Please also read our topic page to find out more about our Topic Work.
Communication and Language
The children will be provided with a range of opportunities to develop their communication skills. Our home corner and garage role play areas allow the children to build on the language they already know and to act out their own experiences. The children will also take part in key groups time activities to support their language development. We will be encouraging the children to speak in full sentences and ask questions to extend their thinking.
Literacy
Through 'Talk for Writing' we will learn the nursery rhyme 'Incy Wincy Spider' and following that the story of 'The Gingerbread Man'. We will learn how to follow the rhyme or story by reading a story map and use actions and words to retell them. The children will be encouraged to draw their own story maps to represent the story and may attempt to write simple words using sounds they have learnt. They will also have the opportunity to act out the story using props or sequence the story using pictures. We will introduce daily phonics sessions where the children will learn phase 2 single sounds and how to blend them together to read and write simple words. We will provide the children with a range of ways to mark make and write with a purpose in their play by enhancing areas according to their interests. During the first term, the children will begin to bring a reading book home. These may have words or simple sentences to read or it may have pictures for the children to narrate the story themselves.
Maths
Every week we will introduce a new number to the children primarily working on numbers 1-10 and then beyond this. This will support the development of many number skills as the children will be encouraged to recognise and form the numbers, order numbers, count out amounts of objects to match a number and recite numbers in order to 20. The children will have many opportunities to explore measure through their play and will begin to learn new mathematical concepts such as height by measuring our own bodies and length by ordering different objects. We will learn names of 2D shapes and create our own patterns and arrangements with them.
Physical Development
Our outdoor learning area provides a variety of opportunities for the children to develop basic gross motor skills such as travelling in a variety of ways, navigating their way around obstacles and balancing on equipment. The development of these skills will continue to be supported through weekly P.E sessions where the children will also learn to participate in simple games. In P.E the children will also learn how to dress themselves independently. On a Friday morning we are lucky to have an extra P.E time which we often use to express ourselves through dance. This half term we will also encourage the children to develop their fine motor skills using a range of activities; this will support the children's ability to hold a pencil accurately and use it to form letters. We will also continue to support the children's understanding of basic hygiene by modelling how to wash hands effectively and discussing why this is important.
Personal and Social Development
The children will spend time settling in to their new learning environment and learning the rules and routines of being in Reception. They will learn about the 'Achievosaurs' who show the children how to engage in their learning and also find out about 'Super Citizen' who helps the children understand how to be a valued member of the class.
Children will take part in daily key worker times to build relationships with staff and peers as well as to develop speaking and listening skill such as turn taking and listening to others. Children also have access to our sensory area of provision to help them with self regulation.
Children will also be encouraged to continue to develop independence with their self care skills, including washing hands, collecting their own snack, putting on their coat and using the toilet.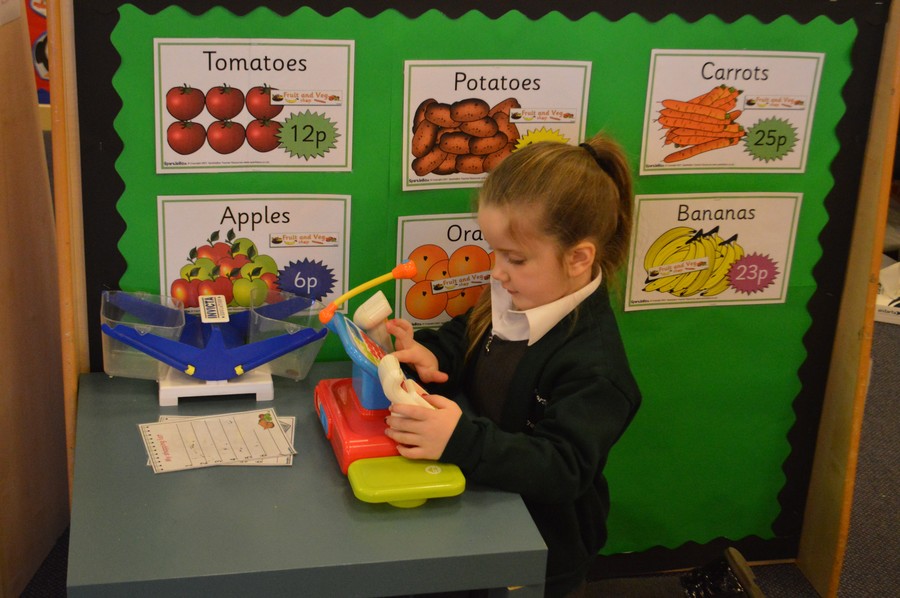 Expressive Art and Design

There are many areas in the classroom that support the children's creative development through independent play. The children will have the opportunity to explore a range of different media and materials to create pictures, collages or models. We will also learn how to use tools safely and how we can use them to change and adapt our creations. We will sing songs daily and have musical instruments for the children to explore independently.
Understanding of the World
This term we will first be focussing on ourselves and the people around us. We will talk about who we are, what we like and dislike and how this may be similar or different to others in our class. We will learn about the different people who help us and discuss where we live and our families. Next half term we will participate in celebrations such as Diwali, Bonfire night, Advent and Christmas. We will also discuss Autumn and seasonal changes exploring the natural world around us.
The children will have the opportunity to develop an understanding of how to operate computers independently in the classroom and also through weekly ICT lessons.