This term
Below you will find information about what the Reception classes are learning about this term. Please also read our topic page to find out more about our Topic Work.
***During school closures due to the corona virus outbreak, some of the work that the children learn may vary slightly to suit home learning.***
Personal and Social Development
During the summer term we will begin to help the children prepare for Year One. We will support them to be independent at managing their own feelings and behaviours, negotiating and solving problems and being confident to give things a try. They will begin to build relationships with new members of staff and will have the opportunity to experience routines similar to that of Key Stage 1.
Communication and Language
The children will continue to use 'talk partners' to share ideas and discuss these in front of a larger group. We will also encourage the children to extend their vocabulary by introducing new words in provision through labels and adult modelling. We will continue to ask lots of 'how' and 'why' questions to prompt the children to talk in full sentences and link their ideas together.
Physical Development
In P.E this term we will focus on 'Real P.E' units that develop co-ordination with equipment, agility and balance skills. We will also continue to have our Friday morning movement session during which we will do yoga, dance or exploring using our movement play resources. We will have discussions about what it means to be healthy and how we keep ourselves safe.
Literacy
Our 'Talk for Writing' texts this term are 'The Very Hungry Caterpillar' and 'We're Going on a Bear Hunt'. The children will learn these stories through a 'story map' and be able to sequence them and retell them using actions. By the end of each unit of work the children will be able to write their own version of the story in simple sentences, which will include tricky words and sounds they have learnt in phonics. Most children will know 'phase 3' sounds and be able to use these to read and write words. The children will be learning 'phase 4' phonics which looks at sound clusters and polysyllabic words. We will also be learning how to read and understand instructions on 'How to Plant a Seed' and write our own instructions on how to get ready for school. The children will also learn how to write a recount of a trip or holiday.
Maths
This term the children will consolidate their knowledge of adding and subtracting and begin to solve mathematical problems using these methods. We will also continue to develop our knowledge of doubling, halving, sharing and grouping through a range of practical activities. We will learn about money and be able to identify the different coins. The children will also be encouraged to count, add and subtract with coins. In addition to this, we will give the children opportunities to explore time and the different ways in which we can measure this. The children will learn to recognise 3D and 3D shapes and use some mathematical language to describe them.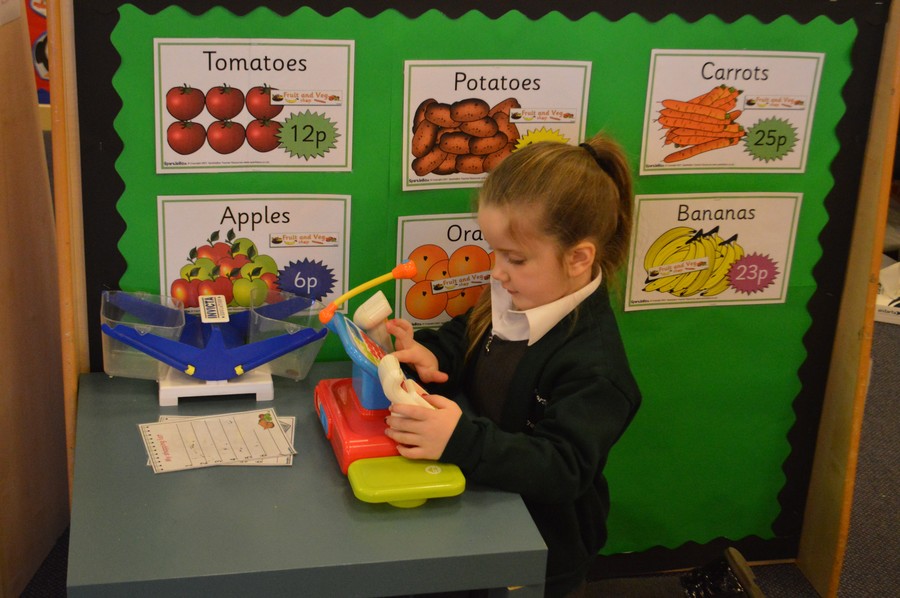 Expressive Art and Design

This term the children will have lots of opportunities to explore mixing colours to paint and to construct using a variety of materials and tools. We will encourage the children to be able to transport equipment safely and think carefully about why they are using different media for their creations. There will also be many occasions where the children will have the chance to express themselves through dance.
Understanding of the World
The children will continue to develop their understanding of computers by logging themselves on to the computer, saving their work, using a keyboard and accessing 'Dazzle' independently. Through our 'what lives in the garden?' learning theme we will compare environments, habitats and what animals need to live and grow. We will also explore the changes we may see in the spring and summer seasons.