This term
Below you will find information about what the Reception classes are learning about this term. Please also read our topic page to find out more about our Topic Work.
Communication and Language
The children will be given a named 'talk partner' to share ideas and discuss these in front of a larger group. We will also encourage the children to extend their vocabulary by introducing new words in provision through labels and adult modelling. We will continue to ask lots of 'how' and 'why' questions to prompt the children to talk in full sentences and link their ideas together.
Literacy
In Literacy we will be focusing primarily on encouraging independent writing this term, making little books, writing labels and captions on their drawings, writing messages/lists and writing in role play alongside our Talk for Writing units. This term we will be looking at sequencing and retelling stories and most of our focus work will be based around saying a sentence, writing it and reading it back to check it makes sense. We will also be challenging the children to write compound sentences using connectives and / but.
In summer 1 we are exploring are 'The Very Hungry Caterpillar' for our fiction text and writing about the life-cycle of a butterfly for our non-fiction text. In Summer 2 our whole topic is based around our favourite books focusing on our favourite story characters. In addition to this in our Talk for Writing units we will be looking at 'Brown Bear, Brown Bear' developing an understanding of using adjectives to describe animals, writing a recount of our farm trip and then finishing off the year with 'We're going on a Bear Hunt'.
Maths
This term the children will consolidate their knowledge of adding and subtracting and begin to solve mathematical problems using these methods. We will also continue to develop our knowledge of doubling, halving, sharing and grouping through a range of practical activities. We will learn about money and be able to identify the different coins. The children will also be encouraged to count, add and subtract with coins. In addition to this, we will give the children opportunities to explore time and the different ways in which we can measure this.
Physical Development
In P.E this term we will focus on 'Real P.E' units that develop co-ordination with equipment, agility and balance skills. We will also continue to have our Friday morning movement session during which we will do yoga, dance or exploring using our movement play resources. We will have discussions about what it means to be healthy and how we keep ourselves safe.
Personal and Social Development
During the summer term we will begin to help the children prepare for Year One. We will support them to be independent at managing their own feelings and behaviours, negotiating and solving problems and being confident to give things a try. They will begin to build relationships with new members of staff and will have to the opportunity to experience routines similar to that of Key Stage 1.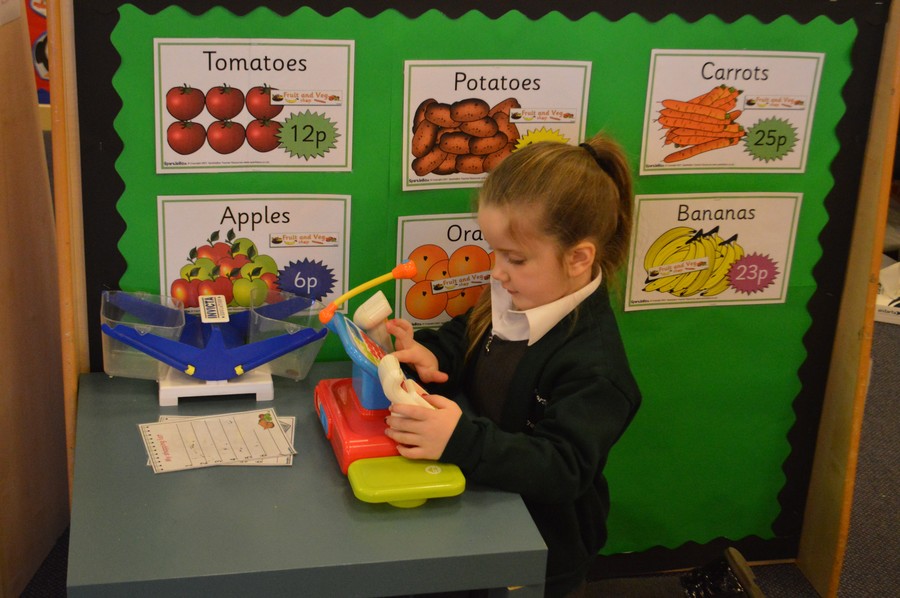 Expressive Art and Design

This term the children will have lots of opportunities to explore mixing colours to paint and to construct using a variety of materials and tools. We will encourage the children to be able to transport equipment safely and think carefully about why they are using different media for their creations. There will also be many occasions where the children will have the chance to express themselves through dance. Our 'Charanga' unit for music this term is called 'Big Bear Funk' where we will begin to learn about rhythm and pitch.
Understanding of the World
The children will discuss the festival of Easter and what this mean for their families as well as the significance to Christians. The children will continue to develop their understanding of computers by logging themselves on to the computer and accessing the program 'Espresso' where they will engage in games that are related to their learning each week. They will also use the program 'Dazzle' to create pictures. Through our key question each week, we will provide the children with opportunities to learn and talk about animals that live in gardens. They will learn about different types of animals, life cycles and habitats. The children will observe, ask and answer questions to deepen their knowledge and understanding.