In Nursery the Early Years Curriculum is taught through a cross-curricular approach. Each term learning focuses on a particular topic. Each week adult directed learning opportunities are planned that help the children progress with their key skills, attitudes and dispositions. In addition to this, child initiated activities and areas of provision provide further opportunity to develop understanding and learn more through independent play and activity.
In Nursery topic focuses take place throughout the week and are taught in both the morning and afternoon sessions. Learning is differentiated to match the children's stage of learning. Links are made with other areas of learning such as Literacy, Maths and physical development to ensure that the children are fully engaged with their learning.
The chart below details what topics and questions the children will be learning over the next term. Details of the other themes that the children cover over our two year cycle can be found on the curriculum pages.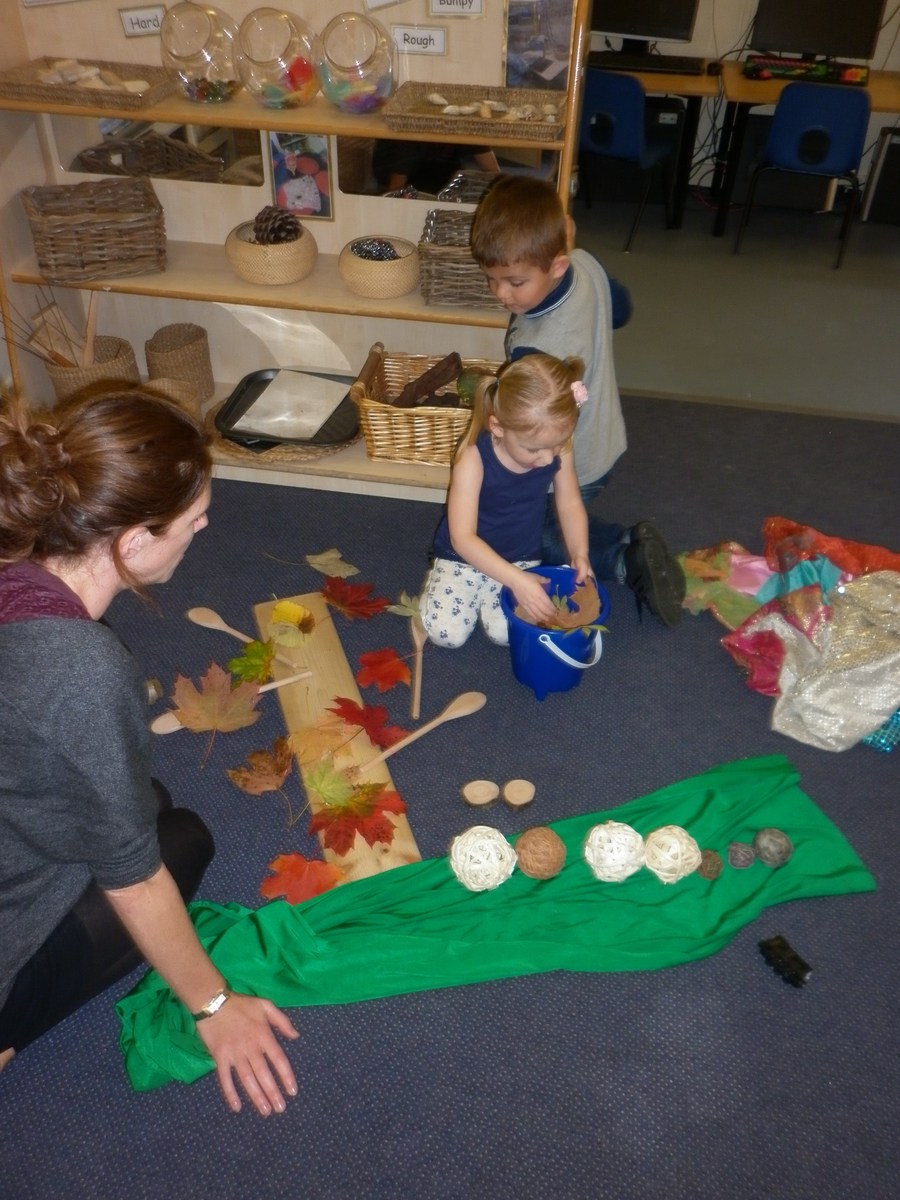 Summer Term - First Half term
Around the World?
Week 1: Easter What's inside the egg?
We will make our own bunny ears and Easter cards and go on an Easter bunny hunt around the school grounds. We will draw the winners for our 'Name the Bunny' and 'Easter Raffle'.
Week 2: Where do we live?
This week we will talk about and draw our own homes and who lives with us including our pets. We will explore landmarks in Lower Wortley and look at the features of our environment that we can see from the school grounds. We will talk about Leeds and children will discuss what they have seen in Leeds as we look at various landmarks.
Week 3: What do people in India eat?
We will locate India on the globe and compare its location to the North and South poles which we have already looked at. We will view a slide show about Indian culture and look at some traditional Indian dress. The children will try a selection of Indian foods and describe what they taste like. The children will also smell some different spices and discuss where they have smelt these before.
Week 4: Do I like African music?
We will locate Africa on the globe and explain that this is one of the largest continents. We will discuss how music is important to African people and their traditional way of life. In the movement room children will listen to African music and play African drums. The stage will be used by children to explore a variety of instruments and perform their favourite songs with the microphones and props to their peers.
Week 5: Can you speak French?
We will locate France and learn how to say some simple French words. We will practise saying please and thank you in French when sharing our snacks. We will also attempt counting to five in French. Mrs. Morrish will come and read us a story in French so children can experience what the language sounds like. We will ask the children if they know any words from different languages.
Week 6: How are other children's lives different to mine?
This week we will look at what it is like to live and go to school in different countries. We will watch clips of different homes and schools from around the world and compare how our homes and lives are similar and different to others.
Summer Term - Second Half term
How do Minibeasts Travel?
Week 1 Discovery Week Inspirational People.
During this week we will learn about David Attenborough and how he has helped animals around the world. We will look at the danger to fish of plastic in the ocean and how we can help our world by reducing the amount of plastic in our sea and recycling our rubbish.
Week 2 Does the Very Hungry Caterpillar eat burger and chips?
This week our focus book will be 'The Very Hungry Caterpillar' children will read the story and watch a short DVD of this. We will have some caterpillar eggs in Nursery and children will observe the changes that take place in their life cycle over the next few weeks. We will discuss the foods that the caterpillar is eating and which are healthy and less healthy and discuss why healthy eating is important. Children will taste different fruits and make comments about them. We will make our own caterpillars in Nursery from bubble painting and finger painting. We will recreate the lifecycle of a butterfly through dance. In mathematical development we will look at symmetry and children will make their own splatter butterfly pictures.
Week 3 Can worms see?
This week our focus book will be 'Superworm'. We will explain that worms cannot see and that they have to rely on their other senses. Children will explore making their own potions. During this week we will have our own wormery in class. Children will observe the worms and how they mix up the soil. We will visit the school allotment and look at the composting bin outside, discussing how worms benefit the soil. Children will use sock puppets in class to develop their speaking and listening skills. Children will wear blind folds and be navigated around the room by peers, experiencing what it is like to rely on their other senses. This week we will look at length in our maths work and compare the lengths of worms we make from play dough.
Week 4 How could you make your own Norman?
We will be looking for snails in the Nursery garden. We will observe what they eat, and investigate their trails. Children will complete their own snail collages in response to 'The Snail' by Matisse. Children will also complete string printings of snails and create snails from clay. We will be reading 'Norman the Slug with the Silly Shell,' and each child will paint their own Norman.
Week 5 How many spots does a ladybird have?
Our focus book this week will be 'The Very Lazy Ladybird' and we will discuss how we need to work hard at Nursery. In maths we will be looking at the spots on a ladybird and using the ladybird provision to complete addition calculations and doubling. Children will also ice ladybird biscuits and put chocolate drops on their backs. We will discuss the ladybird house we have outside and observe to see if we have had any visitors.
Week 6 Why do spiders spin webs?
This week we will read 'The Busy Spider' and talk about perseverance in circle time. Children will make their own spiders and other mini beasts on the workshop table using paper plates as a starting point. Children will also make spiders webs by dribbling paint and glue. We will challenge children to find spider webs in the outdoor area.
Week 7 Who will be at the Ugly Bug Ball?
During this week children will create posters to advertise our Ugly Bug Ball. All of the children will be invited to come to Nursery dressed as a mini beast to the Ugly Bug Ball which will be held on Thursday 18 July. Children will help to prepare butterfly sandwiches and ice spider biscuits for the party. At the Ugly Bug Ball we will play mini beast games and have lots of fun.