In Nursery the Early Years Curriculum is taught through a cross-curricular approach. Each term learning focuses on a particular topic. Each week adult directed learning opportunities are planned that help the children progress with their key skills, attitudes and dispositions. In addition to this, child initiated activities and areas of provision provide further opportunity to develop understanding and learn more through independent play and activity.
In Nursery topic focuses take place throughout the week and are taught in both the morning and afternoon sessions. Learning is differentiated to match the children's stage of learning. Links are made with other areas of learning such as Literacy, Maths and physical development to ensure that the children are fully engaged with their learning.
The chart below details what topics and questions the children will be learning over the next term. Details of the other themes that the children cover over our two year cycle can be found on the curriculum pages.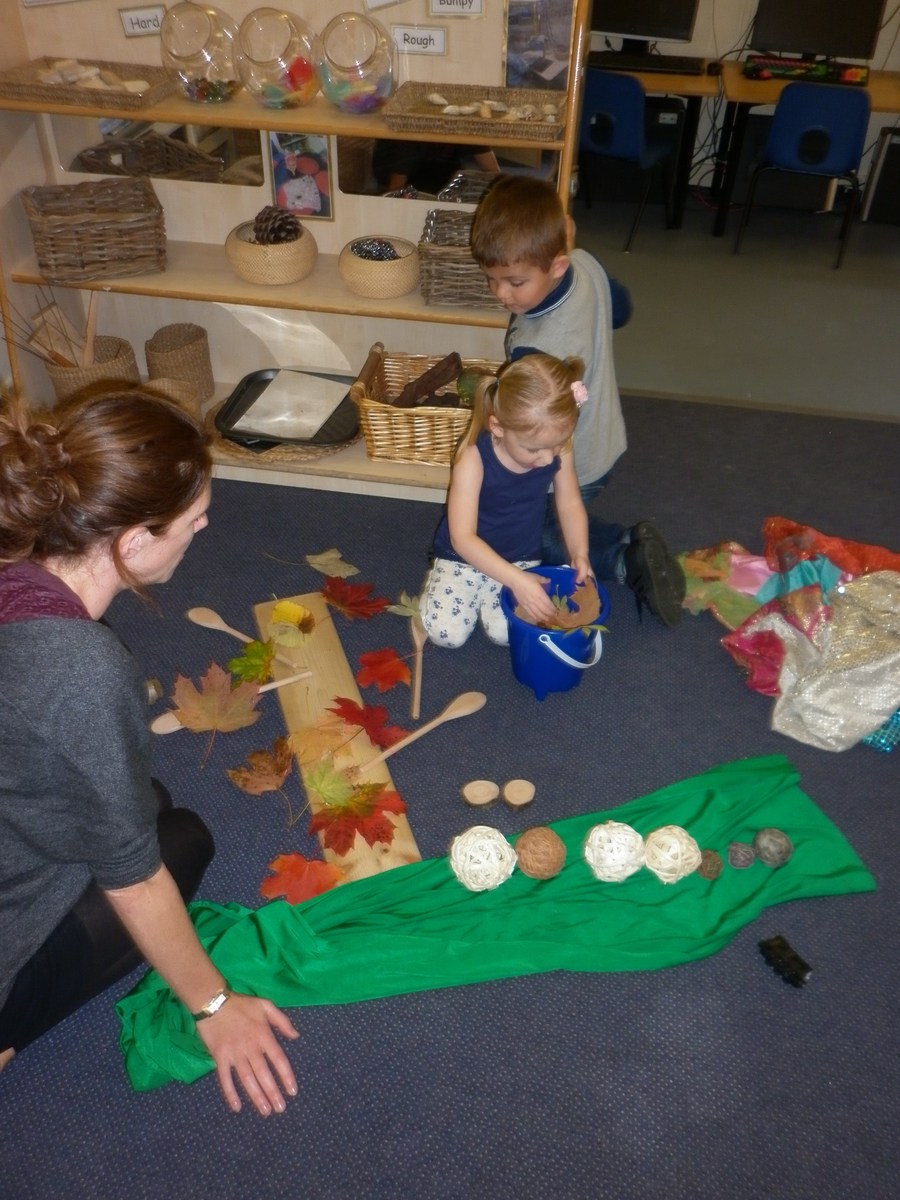 Autumn Term - First Half term
Who Am I?
Week 1 and 2 - Who am I?
There will be new children starting nursery. We will spend time helping them to settle into their new environment. This will involve learning the nursery routines and to share and take turns with other children. The children will also develop their independence by putting their coats on and washing hands. The children will learn about themselves and share information about their families, pets and people that are important to them. They will use mirrors to explore their features and then paint self portraits for our display.
Week 3 - What happens in autumn?
Nursery children will go on a walk around the nursery grounds to look for signs of autumn and make autumn and hedgehog collages. Children will also learn about day and night through the 'Owl Babies' story.
Week 4 - How do we celebrate our birthdays?
Children will talk about their own birthday experiences and will prepare throughout the week for our puppet Polly's 4th birthday party. This will involve making birthday cards, badges, writing invitations and wrapping presents.
Week 5 - Discovery Week on Inspirational People of Black Heritage
All nursery children will complete work towards a nursery display in school. More details to follow from Nursery via SCHOOP.
Week 6 - What helps to keep me healthy?
Children will learn about the people who help to look after us including doctors and dentists. We will discuss walking to school and how the Green Cross Code helps us to do this safely. We will talk about healthy eating and children will look at a selection of fruit and vegetables. The highlight of the week will be an obstacle course where all children will receive a certificate of participation for their efforts.
Autumn Term - Second Half term
Who uses magic?
Week 1 - Are you a witch or a wizard?
The children will imagine what it would be like to be a witch or a wizard and dress up for Halloween. They will make spider biscuits, explore slime and pumpkins. Throughout the week we will discuss children's experiences of Halloween and focus on stories such as Room on the Broom and Winnie the Witch.
Week 2 - What lights up the sky?
We will discuss the celebration of bonfire night and make our own bread stick sparklers. In the imagine and create area we will make our own bonfires using cellophane, foils and natural materials. We will create firework splatter pictures, make scratch art pictures and explore mono printing.
Week 3 - Can you make a magic spell?
Children will design and make their own magic hats and wands and then look at words they can use to create magic spells which they will write on sparkle mats. They will think about what their magic spell would do. Outside children will use ingredients such as conkers, stones and spiders to create their own potions and spells in the mud kitchen.
Week 4 - What's inside the magic box?
Children will look inside the magic box delivered to Nursery and create stories around the objects inside, to go on an imaginary journey together. Children will also look at the magic powers of their own toys. The highlight of our week will hopefully be visit from magician Miss. Tipsy who will perform a magic show with the children.
Week 5 - How will our letters get to Santa?
We will receive a visit from a 'Post worker' to discuss the journey of a letter, their van, uniform and post bags. Children will write their own letters to Santa and we will post them to him in Lapland. Children will also make their own Christmas card to send to their family. We will count how many days it is until Christmas using the advent calendar and children will make their own calendars for 2022.
Week 6 - How can we make Rudolf fly?
Children will look at Santa's reindeers and discuss their names and what helps them to fly on Christmas Eve. We will sing Rudolf the Red nosed reindeer and children will make special reindeer food for Santa's reindeer to eat on Christmas Eve. Outside we will design and make our own sledges. We will watch Christmas performances and practise and perform our own Nativity play.
Week 7 - Where does Santa live?
Children will look at Santa's house in Lapland on the interactive whiteboard and discuss the difference in the weather to Leeds. They will recreate key features to make a Santa's workshop in our outdoor area for Santa's elves to design and make toys in. We will have our Nursery Christmas Party and if we are good we will have a special visitor too!