This Term
Below you will find information about what the classes in Year 5 and 6 are learning about this term. You might also like to view our Recent Events page to see photos of what the children have been learning in school and our Homework page for ways that you can support learning at home.
English
This term we will continue our Talk for Writing scheme. Our first focus will be on Myths which will be linked to our topic work on the Ancient Greeks. The children will study the given text and focus on three areas; imitation, innovation and invention. Finally the children will create their own myth. Following that we will move onto a unit studying letters of complaint.
In the second half of the term, Year Five and Six will be taught separately as Year Six begin working towards their end of year tests. Year Five will continue with Talk for Writing while Year Six work through a variety of genres of writing and prepare for grammar and reading assessments.
We will also complete short, daily Read Write Inc. spelling lessons which had an extremely positive impact at the end of last year. Each child will complete an adult led guided reading session each week and will also have time to complete independent reading activities,
Maths
The children will be studying a range of concepts and calculations focused on number. This will include place value and properties of numbers; different mental and written methods for addition, subtraction, multiplication and division; word problems and number puzzles; and decimals, fractions and percentages. In addition to this, the children will continue with regular Mental Maths and number games throughout the term. As well this essential number work, the children will also work on 2D and 3D shapes including learning more about angles, perimeter and area; they will learn how different units of measure relate to one another and apply these in everyday situations. The children will also work on data handling activities, collecting and presenting information and Year 6 will work on ratio and algebra.
Topic
The first half of this term will be a history topic based on the Ancient Greeks. It will focus on how the Greeks used to live and what we learnt from their civilisation. We will also spend time studying sources and understanding how we have learnt about this period . To enhance the children's learning during this topic we have booked a visit from an 'Ancient Greek Man' who will visit and share his knowledge. The second half of this term will be a DT and music based topic centred around Fairgrounds. Children will be able to design and make their own fairground rides, food and music. More details about both our topic can be found on the 5/6 topic page.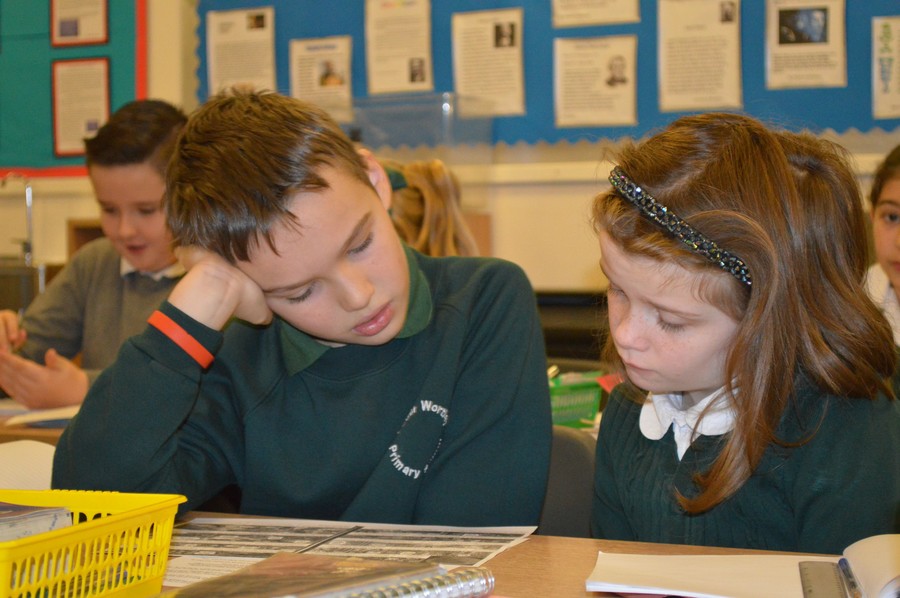 Computing
This term we will complete a Stop-Motion-Animation unit where children create characters and a storyboard and photograph them to create a short video. After February half term children will have the opportunity to complete a second coding unit. This will be done through Espresso where pupils will use a step by step program in order to design and make their own games building on their work before Christmas.
Science
In the first half of this term pupils will be taught about a variety of different forces and how they can impact on objects in everyday live. Following that Year 6 will begin revising all the science topics they have covered in Key Stage 2 dipping into some high school theories while Year 5 focus on biology looking at how the body works, adaptation and life cycles.
PE
In this term pupils will complete a block of dance lessons with a specialised dance teacher as well an creative dance topic which tells a Greek myth. Following that we will teach more real PE and a gymnastics unit where children will learn to jump, roll, balance and travel effectively and link these moves together in a sequence.
RE
After February half term children will study different world religions through a question based approach which will generate topics for discussion.
Music
The children will begin this term by learning to play or developing their knowledge of the ukulele. They will then complete a unit of creative music developed around the sounds which can be heard in a fairground.
Life Curriculum
This term pupils will be focusing on drugs and relationships. As well as that they will be given the opportunity to respond to every day news and current affairs.
French
Children will continue to develop their knowledge of conversational French throughout this term. In addition, they will be learning about food and French cafes.