This Term
Below you will find information about what the classes in KS1 are learning about this term. You might also like to view our KS1 Events page to see photos of what the children have been learning in school.
English
Where possible our English work this term will link with our Theme work but English lessons will follow the Talk 4 Writing approach. At the start of the term the children will be consolidating learning from last year. Year 1 children will focus on writing labels and captions to help them understand the difference between a word and a sentence. Year 2 children will consolidate the sentence writing skills they learned last year, using capital letters, full stops and simple conjunctions. All the children will listen to, learn and do work on a story with a repetitive structure (A Dark, Dark, Tale), a poem about animals, a 'just so' story about 'How Tortoise Got His Shell 'and also letter structures. The children will continue with daily phonics sessions and spelling skills. Children in Year One will consolidate the vowel and consonant digraphs that they learned in Reception and then move onto reading and writing larger words that uses these letters and sounds, including words with adjacent consonants. The Year Two children will also be consolidating their learning from the end of Year 1 to ensure they have remembered all the different vowel digraphs and the alternative sounds that different letters can make.
Maths
The children will learn more about number concepts including counting in different steps, ordering numbers, writing calculations using the correct symbols and recalling simple number facts. Year 1 children will learn to count to 100 and read and write numbers accurately from 1 to 20. Year 2 children will learn more about the place value of numbers in 2 digit numbers and then add and subtract 2 digit numbers from single digit numbers and multiples of tens. Year 2 will recognise odd and even numbers and begin to understand multiplication as repeated addition. All children will work on simple fractions, Year 1 will recognise half of shapes and small amounts of objects whereas Year 2 will recognise the written form of some simple fractions as well as begin to recognise the fraction of a given number or amount. All children will also work on comparing and measuring length, with Year 2 children working using centimetres and metres. The children will also work using the vocabulary of telling the time and learn more about 2D shapes.
Theme (cross curricular work - including Science)
Our theme for the first half term is "Who was Christopher Columbus?" In this cross-curricular unit the children will learn about Christopher Columbus and the key facts about his voyage to The New World. The children will then go on to learn about the Native Americans who already lived in America when it was visited by Columbus. The children will compare different ways of life to their own and also learn how Native Americans today live modern lives compared to those in the past. The children will listen to Native American stories; learn about the significance of animals to the Native American people; design and make totem poles out of clay; learn about the different types of homes Native Americans build and where the tribes got their food and clothes from. To conclude this theme the children will have the opportunity to take part in a Wild West Day.
After half term our theme will be "Could I run a zoo?" This theme focuses on Science and learning about animal types and habitats. The children will spend time learning about different animals groups, including humans. The children will learn about the terms herbivore, carnivore, omnivore and habitat. Children will conduct simple experiments to determine animal food choices as well as have the opportunity to make their own moving animal toy. To conclude this theme the children will work in groups on a class project to make their own model zoo from reclaimed materials.
In addition to this theme the children will take part in Geography lessons, which take place each week, where the children will learn key Geographical facts about the world's continents and oceans.
Please see our Theme Work page for more detail about this term's Theme work.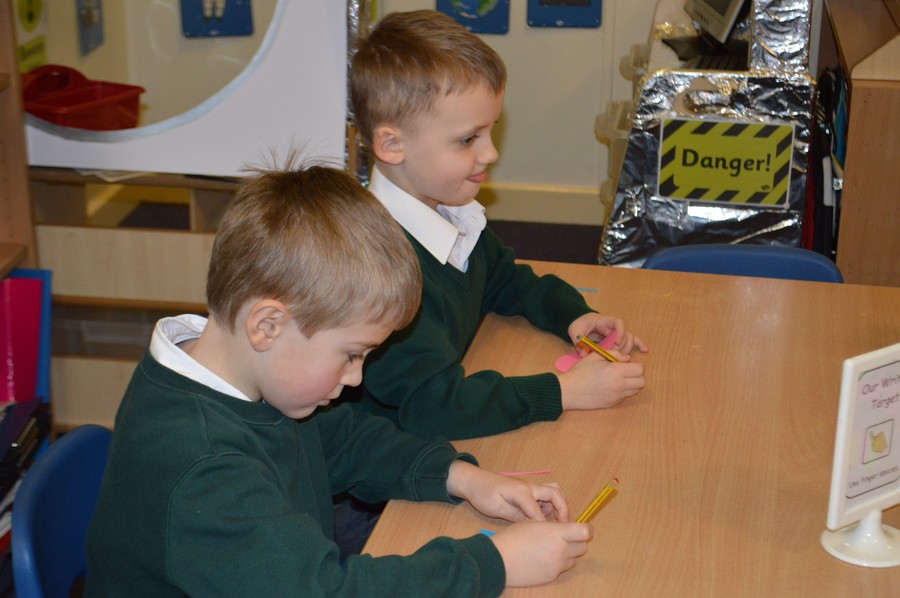 Computing
Computing is often cross curricular and includes working on English and Maths skills using the computers but the start of the term computing lessons will focus on ensuring children have the grasp of basic skills for logging onto the school computers, finding and opening programs as well as inputting and saving simple text. Later in the term the children will have lessons on how to use control devices such as simple floor robots and programs with controllable objects. They will input instructions to make things happen as well as predict an outcome before they try out instructions.
PE
During the first half term the children will be working on key physical skills, co-ordination using floor movements (moving in different ways such as side step and hop scotch) and static balance on one leg. PE is taught using the 'Real PE' approach where the children use story and song to help them acquire and master the key physical skills through a range of games, challenges and activities. After half term the children will work on the key physical keys of dynamic balance (moving smoothly in different ways) and static balance on a small base (toes and balls of the feet).
Music
The children will continue to learn and sing a range of songs linked to curriculum areas. The children will also take part in Music lessons focused on learning songs that can be sung in parts or 'rounds'. As part of this work the children will listen and respond to different pieces of music and accompany their singing with un-tuned percussion. Later in the term the children will learn songs, actions and dances to perform as part of our Christmas Performance.
RE
The children will learn about belonging and how different religions show they belong to a particular faith as well as think learn about how babies are welcomed into the Christian and Islamic faiths. The children will also consolidate their understanding of why Christian's celebrate Christmas and the importance of festivals and celebrations to different faiths.
Life Curriculum
Each week the children will discuss a 'thought for the week' with their teacher and class. These thoughts link closely to PSHE learning but the children will also take part in some lessons during the term. During the first half term the children will learn more about what it means to be a good friend. They will learn how to make new friends and discuss if doing what our friends tell us is always good for us. Later in the term the children will learn about healthy lifestyles, including understanding why exercise and hygiene can affect our health. The children will also discuss the term 'disability' and what this can mean to different people.