This Term
Below you will find information about what the classes in KS1 are learning about this term. You might also like to view our KS1 Events page to see photos of what the children have been learning in school.
English
Where possible our English work this term will link with our Theme work but English lessons will follow the Talk 4 Writing approach.
Our first text will be Rumplestiltskin and the children will learn the story before going on to write in a similar style and use the text as a model to support their own ideas for writing. The children will also follow a similar approach to study other texts this term including a poem about Trains, a 'just so' story titled How the World Was Made and also instructions about making model instruments.
The children will continue with their daily phonics and spelling work. Year 1 children will begin to learn new vowel digraphs and begin to look at how some sounds can be written in more than one way. The Year 2 children will move on to using the Read, Write Inc Spelling scheme for their daily spelling lessons. More information about this approach can be read in the curriculum part of our website - here. As part of this work the Year 2 children will focus on spelling rules such as rules for suffixes -y, -ing and -ed as well as the or sound spelt with an a before l or ll.
In addition to this the children will continue their work on consolidating grammar by learning more about conjunctions, using the correct tense, questions marks, commas and exclamation marks and beginning to use noun phrases.
Maths
The children will learn more about number concepts including counting in different steps, ordering numbers, writing calculations using the correct symbols and recalling simple number facts. Year 1 children will learn their number bonds to 20 and find different ways to present these. Year 2 children will learn more about recognising, ordering and comparing numbers . Year 2 will use their known number facts to help them derive other facts and begin to add and take away two, two digit numbers. Year 1 will use pictorial representations to help them calculate simple problems about groups of amounts. They will build on their understanding of multiplication by learning more times tables and the associated division facts. All children will work on simple fractions, Year 1 will recognise half of shapes and small amounts of objects whereas Year 2 will recognise the written form of some simple fractions as well as begin to find the fraction of a given number or amount. All children will also work on comparing and measuring length as well as using money and calculating using values of money. The children will also work using the vocabulary of telling the time and learn more about 2D shapes. Year 2 children will learn about rotation and use the terms full turn, half turn and quarter turn.
Theme (cross curricular work - including Science)
Our theme for the first half term is "Who Invented Transport?" In this cross-curricular unit the children will learn about George Stephenson and the key facts about his invention of the steam engine. The children will also learn about the Montgolfier brothers who invented the hot air balloon. The children will then go on to make their own model balloon using paper mache. To conclude this theme the children will make an information leaflet about transport and use all the facts that they have learned.
After half term our theme will be "What's on the radio today?" This theme focuses on learning about music and musical instruments. The children will spend time listening to different types of music and talking about what they like about the different styles of music. This will include listening to music from different cultures. The children will respond to music using artistic media and think about how different pieces of music make them feel. The children will conduct a simple scientific experiment about sound. At the end of the unit the children will make their own musical instrument from reclaimed materials.
In addition to this theme work the children will also have Geography lessons in the second half term which will help the children learn more about map work and how to use maps to locate places. This will also consolidate learning about the continents.
Please see our Theme Work page for more detail about this term's Theme work.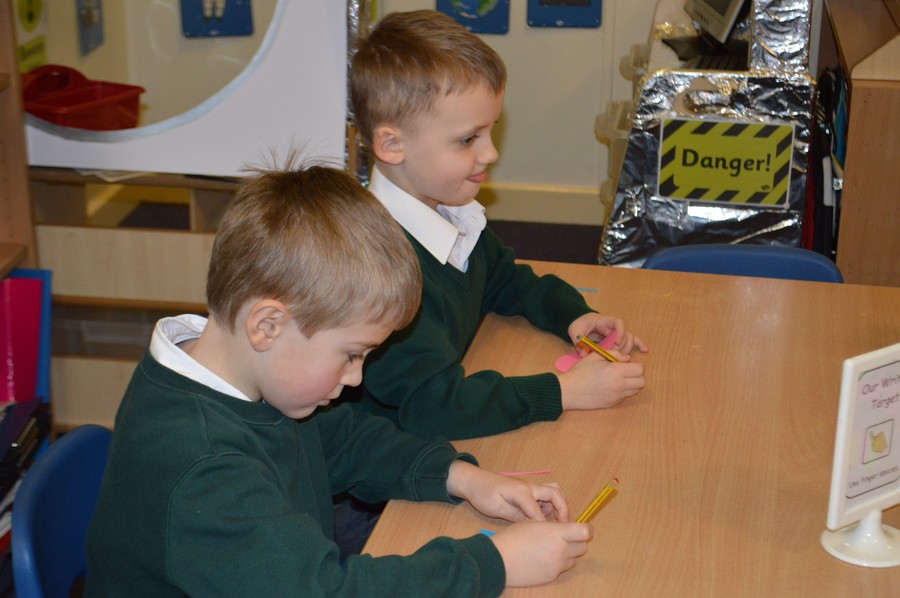 Computing
Computing is often cross curricular and includes working on English and Maths skills using the computers but the start of the term computing lessons will focus on teaching the children about using art programs to create pictures. The children will be taught to use different tools as well as how to save and retrieve their work. Later in the term the children will begin lessons on how on coding. The children will learn how simple programs can be constructed and how they can fix their own 'APPs' by de-bugging when things don't work.
PE
During the first half term the children will be working on key physical skills, agility in chasing balls and static balance floor work. PE is taught using the 'Real PE' approach where the children use story and song to help them acquire and master the key physical skills through a range of games, challenges and activities. After half term the children will work on the key physical keys of dynamic balance to agility and static balance seated.
If the weather permits it PE lessons will take part outside so children should always have a suitable outdoor PE kit, including trainers or pumps, in school
Music
The children will continue to learn and sing a range of songs linked to curriculum areas. The children will also take part in Music lessons focused on music in a Hip Hop style. The children will learn songs in that style as well as move to music. As part of this work the children will listen and respond to different pieces of music and accompany their singing with un-tuned percussion.
RE
The children will learn about prayer and the importance of it to both the Christian and Muslim faiths. They will think about why people pray and how different objects or prayer positions help people to focus on their prayers. The children will also consolidate their understanding of why Christian's celebrate Easter.
Life Curriculum
Each week the children will discuss a 'thought for the week' with their teacher and class. These thoughts link closely to personal, social and health education. During the first half term the children will learn more why we have rules in society, the role of the police force and also who they can go to if they need help. This work will include discussing with the children when and how they should call 999. Later in the term the children will learn about keeping themselves safe and how they can make sensible choices to look after themselves.