This Term
Below you will find information about what the Nursery classes are learning about this term. You might also like to view our Nursery Events page to see photos of what the children have been learning in school.
Please also read our topic page to find out more about our Topic Work.
Communication and Language Development
Each day we continue to have a question which we discuss at snack time in our key worker groups through a circle time approach and we share our news with peers. Every week we send home a talk ticket via Schoop. The talk ticket includes a question linked to our work in Nursery to discuss at home. We share these with our peers back in Nursery. Children listen to stories, participate in small group games, activities with puppets and singing to develop their communication, interaction and listening skills.
Personal, Social and Emotional Development.
The children continue to respond well to our positive behaviour management strategies including our superstar star chart, star of the day, achievosaurs, stickers and specific praise. Children are showing increasing confidence in sharing their news and creating amazing work for our WOW wall. Our stage will be enhanced this half term as we encourage children to develop their confidence performing to others. We will be sharing stories relating to rules, feelings and expressions to develop children's understanding and ability to relate to them.
Physical Development
The movement play room is an integral part of our continuous provision providing excellent provision for the children to develop their physical skills. Each week we have a focus in our 'Funky Fingers' area to develop children's fine motor control. Activities this half term include making patterns on peg boards, using tweezers to sort objects, fastening screws, threading to create African jewellery and cutting patterns. Outside we will be developing our gross motor control through dance with movement resources on the stage, balancing on the beams and stilts, and ball skills. We will complete regular yoga sessions in the hall our focus sessions are 'Kickapoo the Kangaroo' and 'Calypso the Flamingo'.
Literacy
We have super hero writing capes which encourage the children to mark make with super powers using a variety of mark making equipment. In addition to our mark making area we have mark making proformas throughout our role-play provision. Focus activities this half term include creating our own story maps for 'Dear Zoo' and beginning to write words to represent objects. We are continuing to introduce sounds through the Letters and Sounds scheme using the Jolly Phonics stories. We discuss the importance of using the correct pencil grasp and use rhymes to help our children remember the correct letter formation. To support children in writing their name every child has a name card which they can access independently. Children sign into Nursery with their parents/carers at the start of each session by answering the question of the day. We have a daily story time where we share stories linked to our theme and literacy spine. 'Dear Zoo' is our Talk for Writing this term. Children will be encouraged to retell the story on our story map. This half term our focus rhyme will be "Two Little Dickie Birds".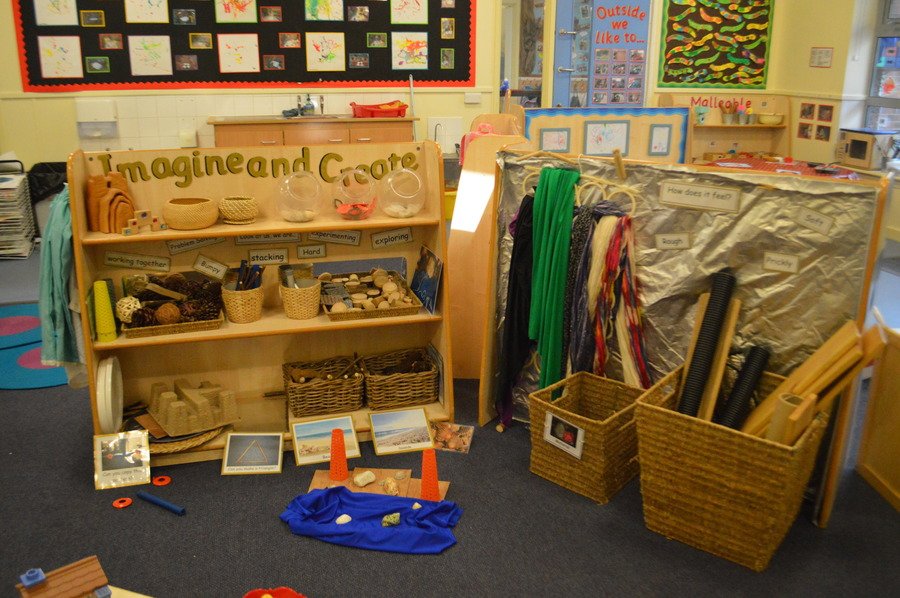 Mathematics
Children are encouraged to complete several activities relating to our 'star number' including saying the rhyme, recognising the number and its value in Numicon. Children will practise number formation in crazy foam, rice, glitter and paint. We continue to look at one more and one less than a given number. Through practical activities children will begin to add groups of objects together and use our adding machine with purpose. We will build on the interest in shape generated following our recent shape hunt through activities which develop children's knowledge of shape names and their properties.
Understanding the World
During our 'Around the World' theme we will learn about children from other cultures including similarities and differences between their food, homes, weather, clothes and music. This will include children tasting traditional Indian food and smelling a variety of spices. Children will take photos of Lower Wortley from the school grounds and look at a slideshow of famous landmarks in Leeds. We will complete further focus work on the remote control cars and introduce the Bee bots.
Creative Development
Children will create their own representations of their homes through a choice of media. They will design and make their own vehicles from box craft to go on imaginary journeys. During our work on Africa children will listen and respond to African music on our outdoor stage and have a go at playing African drums. Children will also have the opportunity to explore other musical instruments and the sounds which they make. Enhancements to our provision will include a 'Cafe' inside and an 'Airport' outside. Children will learn about the different roles involved and speak to an 'Air Hostess'. Children will recreate their own experiences and go on imaginary journeys. We will also have several focus activities in our 'Construction Site' linked to building homes and shelters from around the world.