This Term
Below you will find information about what the Nursery classes are learning about this term. You might also like to view our Nursery Events page to see photos of what the children have been learning in school.
Please also read our topic page to find out more about our Topic Work.
Communication and Language Development
Each day we continue to have a question which we discuss at snack time through a circle time approach and we will also have time to share our news with peers. Every week we will put a talk ticket on SCHOOP, which is a question linked to our work in nursery to discuss at home. We share these with our peers back in nursery. Children will listen to stories, participate in small group games, activities with puppets and singing to develop their communication, interaction and listening skills.
Personal, Social and Emotional Development.
Last term we spent time introducing the nursery rules and routines. The children are responding well to our positive behaviour management strategies including our super star chart, star of the day, achievosaurs and specific praise. Each session children continue to spend snack time in their key worker groups. We will observe snowflakes and discuss how like them we are all different and special. We will talk about people that are special to us and what we can do to help our special people.
Physical Development
Children will complete focus activities in our movement room to support their gross motor control and regular yoga sessions in the hall. Each week we continue to have a focus in our 'Funky Fingers' area and we also enhance our provision with activities to develop children's fine motor skills. In larger groups we are completing regular 'Dough Disco' and 'Squiggle Whilst you Wiggle' activities.
Literacy
We have a specific mark making area with super hero writing capes which encourage the children to mark make with super powers using a variety of mark making equipment. We also have mark making proformas throughout our role-play provision. Focus mark making activities will include writing our names with feathers, writing in snow and glitter and using sequins to make the initial letter from our names. Children will write thank you cards to Santa, write notes to a penguin and make cards for the Chinese New Year. We will start introducing letter sounds through phase 2 letters and sounds sessions as appropriate using the Jolly Phonics stories. We also use the 'Read Write Inc' formation rhymes to support children in using the correct letter formation. We will discuss the importance of using the correct pencil grasp. To support children in recognising and writing their name every child has a name card which they can access independently. Children sign into nursery with their parents/carers at the start of each session by answering the question of the day. We have a daily story time and this half term our focus rhyme will be "Five Little Snowmen Fat" linked to our Frozen Kingdom theme and we will continue to run the Nursery Library.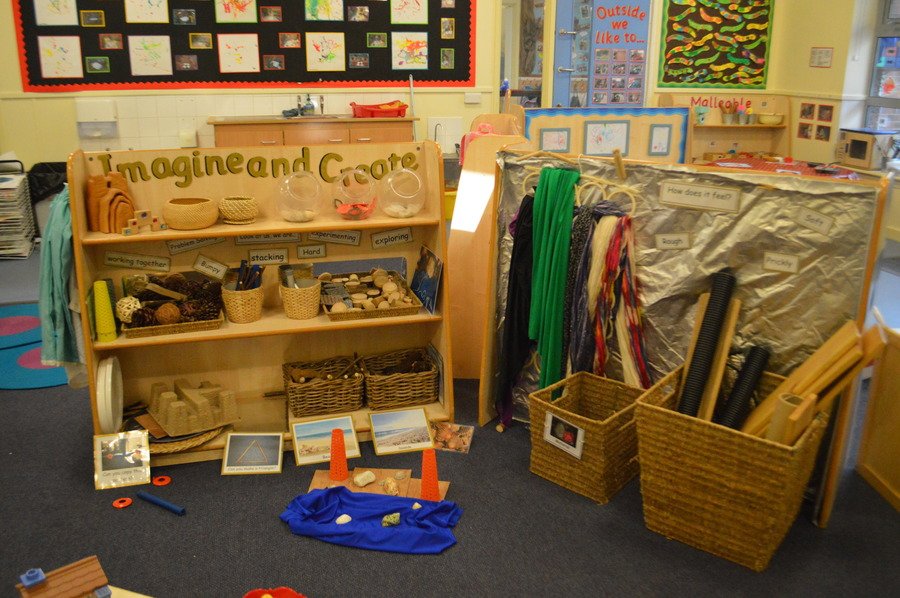 Mathematics
Children will learn about shape and space through provision areas and we will introduce positional language through games with the arctic animals. Children are encouraged to complete several activities relating to our star number each week including saying the rhyme, recognising the number and its value in Numicon. Children will practise number formation in crazy foam, coloured sand, glitter and paint. During this half term our focus will continue to be on counting with one to one correspondence, focus activities will include counting snowflakes and snowmen we will begin to add groups of objects together through practical activities with resources in our adding machine. We will complete jigsaws, maths games and contribute towards making number lines for our provision areas including snowmen in the maths area and snowflakes in the workshop.
Understanding the World
Children will discuss their own experiences of celebrating Christmas and we will compare family customs and traditions. Following the tradition of making New Year's Resolutions we will think about our own wishes for 2019. As we learn about the Chinese New Year we will make lanterns, decorate money bags, make masks of the animals from the story and taste traditional Chinese foods. Children will explore ice melting in the water tray using it as icebergs for the small world animals. To avoid confusion between the animals which live in the Arctic and Antarctic we will refer to them all as animals which live in very cold places as we learn about penguins, polar bears and arctic foxes. We will learn how some people who live near the North Pole live in igloos. We will discuss what happens in winter and look at some photos which show evidence of winter weather. We will create experiments with buttons and sequins in ice. Children will make predictions about what they think will happen next. Children will continue to have daily access to the computers, interactive whiteboard, light panel and the listening centre.
Creative Development
Specific focuses to support children's creative development include creating their own snowmen and penguins and decorating snowflakes. Children will sing the rhyme 'Five Little Snowmen Fat' supported by puppets snowmen costumes and actions. Children will continue to use their own mini me's to support their imaginative play in the construction and small world areas. Enhancements to provision will include an Arctic role play indoors and an Igloo and Chinese Takeaway outside. We will have costumes to support role play such as 'Frozen' characters costumes, snowmen and polar bear suits.