In Nursery the Early Years Curriculum is taught through a cross-curricular approach. Each term learning focuses on a particular topic. Each week adult directed learning opportunities are planned that help the children progress with their key skills, attitudes and dispositions. In addition to this, child initiated activities and areas of provision provide further opportunity to develop understanding and learn more through independent play and activity.
In Nursery topic focuses take place throughout the week and are taught in both the morning and afternoon sessions. Learning is differentiated to match the children's stage of learning. Links are made with other areas of learning such as Literacy, Maths and physical development to ensure that the children are fully engaged with their learning.
The chart below details what topics and questions the children will be learning over the next term. Details of the other themes that the children cover over our two year cycle can be found on the curriculum pages.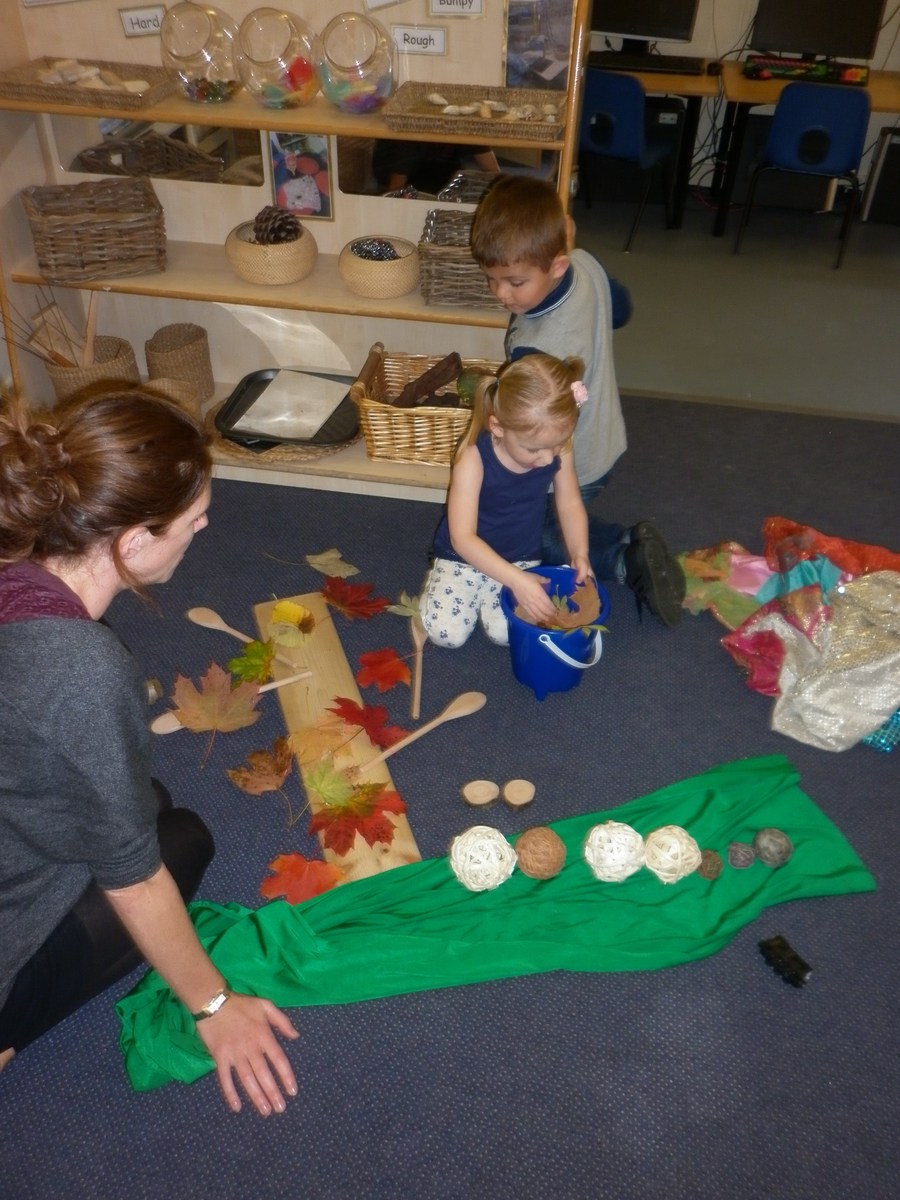 Autumn Term - First Half term
Who am I?
Week 1 and 2

Who am I?

Children will be starting Nursery over the first two weeks. We will spend time helping them to settle into their new environment. This will involve learning the Nursery routines and to share and take turns with other children. Children will also develop their independence by putting their coats on and washing hands.

Children will learn about themselves and share information about their families, pets and people that are important to them.

Children will use mirrors to explore their features and then paint self portraits for our Nursery Gallery. They will explore paint and complete hand prints for our busy hands display. We will also be reading Mr. Men books and looking at the characteristics of the Mr. Men.

Week 3

What happens in Autumn?

Nursery children will go on a walk around the school grounds to collect leaves for our autumn display and make autumn and hedgehog collages. Children will also learn about day and night through the Owl Babies story.

Week 4

How do we celebrate our birthdays?

Children will talk about their own birthday experiences and will prepare throughout the week for our class puppets 4th Birthday party. This will involve making birthday cards, badges, writing invitations and wrapping presents. Children will prepare games and food and decorate biscuits for the party.

Week 5

Discovery Week.

All Nursery children will learn about an artist and complete work towards a Nursery display in school. More details to follow shortly.

Week 6

What helps to keep me healthy?

Children will learn about the people who help to look after us including doctors and dentists.

We will discuss walking to school and how the Green Cross Code helps us to do this safely. We will talk about healthy eating and children will taste a selection of fruit and vegetables. We will start our regular 'cosmic yoga' sessions. The highlight of the week will be a sponsored fun run and an obstacle course where all children will receive a certificate of participation for their efforts.

Week 7

Who helps to keep us safe?

We will hopefully have a visit from the local PSCO to talk about their work and the children will have the opportunity to ask questions about their role. Children will also go on a tour of the school and meet some of the staff who help look after us such as Mrs. Geldard our head teacher and Mr. Chambers our caretaker.

On Friday 26th October we are inviting children to come to Nursery dressed as a witch or a wizard.

We will be carving and exploring the texture of pumpkins and will have story by pumpkin light. Throughout the session we will have some dancing and games to celebrate the end of our half term.
Autumn Term - Second Half term
What happens in the sky?
Week 1

What lights up the sky?

Children will observe fireworks and talk about their own experiences. They will then create firework splatter paintings and bonfire collages. We will use the computers to create firework pictures on the Dazzle program. Nursery children will be learning about the work of Jackson Pollock and they will create their own pictures in this style. We will also learn about how children celebrate Diwali.

Week 2

Who would you meet on the moon?

Children will be sharing the stories 'Here come the Aliens' and 'Aliens love Underpants'. Children will have a visit from 'Arnie' the alien who will invite them to create him some alien friends.

Children will be encouraged to be imaginative and creative with their ideas. They will use fluorescent paints to paint aliens, fimo to make alien models and socks to make puppets. The children will then follow clues on a space craft hunt around the school grounds. Arnie will decide to stay in Nursery and play some alien games with the children.

Week 3

What would you take into space?

This week's activities will be based around the story 'Whatever Next'. Children will gather information on tally charts and lists to identify what we will take on our picnic on the moon. Throughout the week children will use the indoor blocks and outdoor crates to make large scale rockets. We will make rockets from 2d shapes and create box craft rockets using 3d shapes. At the end of the week we will bring our own teddies to Nursery to have a picnic on the moon.

Week 4

What can you see in the sky?

Our work will be based around the stories 'Owl babies' and 'Night Monkey, Day Monkey.' We will be comparing day and night and looking at clouds and rainbows. Children will use the dark den to explore the dark and use sensory toys. Children will use a range of tools and techniques to make the things they can see in the sky.

Week 5

Why are stars special?

We will learn about the Christmas Nativity and the importance of the North Star. Children will recreate the Christmas story when practising our Christmas performance through small world play. This week our work will be based on the story Laura's Star. Children will think about their own wishes which will be scribed for them and added to our wishing tree.

Week 6 and 7

Does Santa bring presents in a rocket?

Children will learn about Santa, his sleigh and reindeer and how he delivers our presents.

We will be making our Christmas cards, calendars and doing lots of festive art work. Other special events this half term will include watching the Reception, KS1 and KS2 performances. Performing our own Nativity play and our Nursery Party.

Nursery closes for Christmas on Thursday 20th December.