This term
Below you will find information about what the Reception classes are learning about this term. You might also like to view our Reception Events page to see photos of what the children have been learning in school.
Please also read our topic page to find out more about our Topic Work.
Communication and Language
The children will be given more opportunities to use 'talk partners' to share ideas and discuss these in front of a larger group. We will also encourage the children to extend their vocabulary by learning new and exciting words to describe animals and places. In addition to this, we will be asking lots of 'how' and 'why' questions to prompt the children to talk in full sentences and link their ideas together. We will continue to encourage good listening including turn taking in conversation and responding appropriately.
Literacy
Through 'Talk for Writing' we will learn the story 'The Enormous Turnip' and will participate in a range of activities to develop our writing skills by using our phonic knowledge to write words and attempt to write simple sentences. The children will be encouraged to adapt stories by changing endings, characters or places. This may be through story maps or imaginative play. During focused phonics sessions the children will either be revising and consolidating phase 2 sounds or beginning to learn phase 3. We will continue to provide the children with a range of ways to write with a purpose and meaning in their play by enhancing areas according to their interests.
Maths
We will continue to have a number of the week, focusing this time on 'teen' numbers. Our focus will be for the children to know what is one more and one less than a given number and to be able to create teen numbers with Numicon. Following this the children will develop their addition and subtraction skills be being able to read and write simple number sentences and use a variety of practical ways to find the answer. In our 'pets role play' we will begin to explore the concepts of time and money. We will model to and encourage the children to use language such as '3 o'clock' and '5 pound please' through engaging in play with them.
Physical Development
In P.E this term we focus on 'Real P.E' units that develop balance and co-ordination skills. We will also continue to have our Friday morning movement session during which we will do yoga, dance or exploring using our movement play resources. The children are all encouraged to zip up their own coats, put their own shoes on and get themselves changed for P.E without adult help. We will be learning about healthy food through our English work around 'The Enormous Turnip'. The children will learn about food hygiene and using a variety of tools safely when we make turnip soup.
Personal and Social Development
The children have really grown in independence during their first term in Reception and are all enjoying learning in a new environment. This term we will teach the children to have more of an understanding of how they learn and what makes a good learner by using 'Achievosaurs'. We are also continuing work on making positive relationships with others. We will continue to use our 'Emoji' emotional register, where the children will be encouraged to reflect on their own feelings and communicate this with their teachers. We are encouraging the children to resolve their own conflicts with our school 'high five' system in order to effectively manage their feelings and behaviour.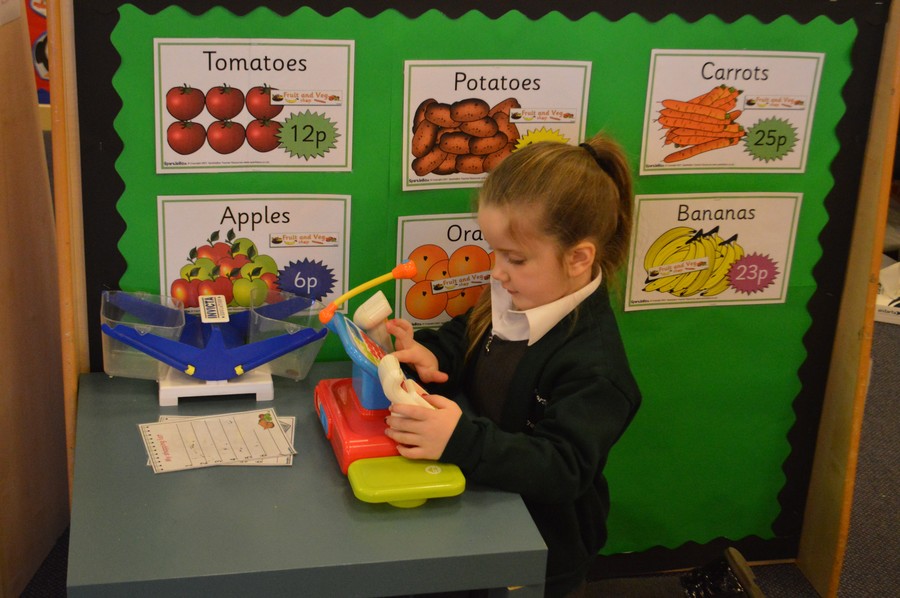 Expressive Art and Design

The children have opportunities to show their creativity in all areas of the classroom. We will continue to provide purposeful challenges and activities for the children to develop their skills independently such as, making a home for a dinosaur, making Chinese lanterns and we will be exploring textures making collaborative collages of animals. The children will be encouraged to use a variety of different resources for a purpose and use tools effectively to adapt and change their work. The music area in the classroom offers the children a chance to express their creativity through singing and playing instruments. This half term we will explore the sounds of a Xylophone and see if we can follow a musical pattern whilst playing it.
Understanding of the World
The children will continue to develop their understanding of computers by logging themselves on to the computer and accessing the program 'Espresso' where they will engage in games that are related to their learning each week. Through our key question each week, we will provide the children with opportunities to learn and talk about where animals live around the world facts and how things may change over time. We will also learn about celebrations such as Chinese New Year and Easter. We will explore our local area, discussing similarities and differences between here and other places in the world.