In Key Stage 1 the National Curriculum subjects are taught through a cross-curricular approach. Each term learning focuses on a particular theme. We have a question based format where children are presented with a question each week and learning opportunities are planned that help the children to answer the question.
In Key Stage 1 Theme lessons take place three times each week and are taught in mixed ability classes with their class teacher. Learning is differentiated to match the children's knowledge, skills and progress. Each class teacher also links the class role-play area to the Theme for each half term and provides opportunities to learn about the current Theme through imaginative play. In addition links are made with other lessons such as English, Maths, PE and computing to ensure that children are fully engaged with the Theme.
To ensure thorough coverage of the Key Stage 1 Science curriculum, the Themes in Key Stage 1 often have a Science focus. At least one Theme each term will have a Science focus.
The chart below details what Themes and questions the children will be learning over the next term. Details of the other themes that the children cover over our two year cycle can be found on the curriculum pages.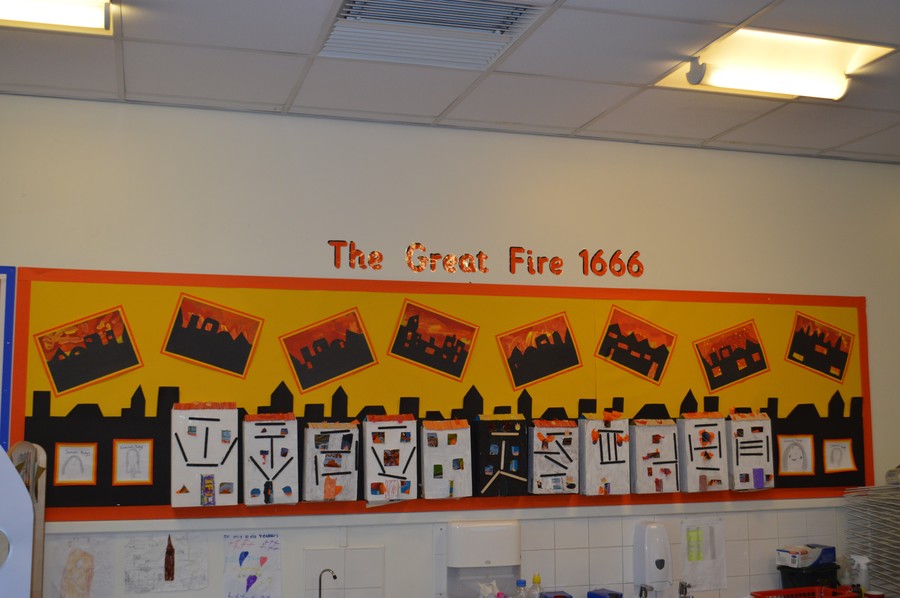 Autumn Term - First Half term
Why did London bridge nearly fall down?
Week 1

Where Is London? Learn the names of some famous London landmarks; compare Leeds to London; link to Geography work about maps;

Week 2

Who lives in London? Learn London is the capital city of the UK; learn The Queen and Prime Minister live in London – this is where the government works; compare London to our local area; learn some landmarks in Leeds city centre;

Week 3

What was London like in the past? Imagine what London was like along time ago; begin to understand timelines; look at pictures as evidence of what the past was like and learn about what London was like in 1666 including a little learning about The Plague;

Week 4

Why do people remember 1666? Learn key facts about the Great Fire of London – how it started, what happened, how it ended; create own model houses; use art work as a source of historical evidence; create own art work in similar styles;

Week 5

How do we know the Great Fire really happened? Learn a little about Samuel Peyps diary and how this is an important historical source; looking at portraits of Peyps and King James – create own self portrait; think about how fire fighting has changed over time;

Week 6

Summary/
Celebration

Could the Great Fire happen today? Christopher Wren, Changes to building, materials and technology (fire alarms, fire engines), Make bread
Autumn Term - Second Half term
Why do some people live in ice houses?..... coming soon....
Week 1

Week 2

Week 3

Week 4

Week 5

Week 6

Summary/

Celebration
You might also like to look at the Key Stage One page about Homework and what we are learning this term.