Spirit Alive Fun!
Spirit Alive Fun!
28 June 2016 (by admin)
Our annual Spirit Alive event was a great hit with staff and children alike. Click to read more!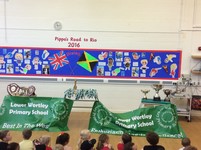 We are one of the only schools in Leeds who still run this event and it is one of everyone's favourite days of the year. The feel good factor spreads around school as everyone enjoys participating in sports events and challenges, working in cross Key Stage teams and generally having lots of fun! Sweden were the overall winners and we finished off at the end of the day by celebrating our sporting achievements for the year!