LWPS Brave the Weather!
LWPS Brave the Weather!
11 June 2016 (by admin)
In torrential rain, over 40 children from Lower Wortley took part in the half time pitch parade at Headingley as the Leeds Rhinos beat Salford. Click to read more.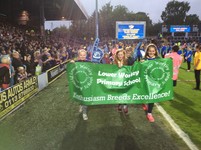 As a culmination to our Takeover Day children from Reception all the way up to Year 6 took advantage of our £5 ticket offer. They paraded around the famous pitch waving their giant fingers to the crowd and proudly showing off our new school banners. Well done to everyone for braving the conditions and enjoying the experience despite being soaked from head to toe. Seeing Leeds win this year is a pretty rare occurrence so we may be invited back every week!