Sevens Success for Rugby Superstars!
Sevens Success for Rugby Superstars!
8 June 2016 (by admin)
For the first time ever Lower Wortley Primary School became the Leeds and Hunslet Schools rugby sevens champions in a tense and nerve wracking tournament at Stanningley Rugby Club.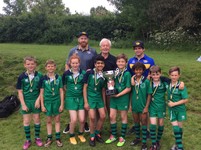 Two comfortable victories in the group saw us qualify for the quarter finals as group winners. Theo stood out in the first game scoring all four tries in a 4-1 victory over Morley Newlands. A 5-0 win against All Saints followed with Deakon scoring four this time and Ethan adding a fifth. The quarter finals saw us drawn against Bramhope, our recent conquerors in the cup. It was a phenomenal game of rugby - incredibly intense and end to end. Bramhope had a sustained period of pressure on our line and the commitment and attitude shown in defence was outstanding. It would be impossible to single one player out as all of them played their part. In the last minute with the game still tied at 0-0 Theo broke down the touchline and scored sending players, fans and coaches into wild celebrations! The game finished 0-0 and it is important to note at the this point the sportsmanship from both sides. Both teams supported even other for the rest of the evening and the mutual respect between the sets of players was great to see. The semi final against West End got off to a great start with Ethan scoring with his first touch of the ball. Although it wasn't our best performance of the evening Ethan did score again to seal a comfortable 2-0 win. In the final we met our old adversaries Park Spring who we have already defeated in local tag rugby and football finals this year. They moved into a 1-0 lead as we conceded only our second try of the tournament. The equaliser was created by a lovely pass from Thomas - the best bit of creativity seen throughout the tournament - which put Theo away in the corner. Some heroic defence thwarted the opposition and as we moved into extra time with the score locked at 1-1 their heads began to drop. Deakon and Ethan added match winning tries as we ran out 3-1 winners. The Culley trophy - a competition which has run for over forty years - was presented by Leeds Rhinos' stars, Keith Galloway and Beau Fallon. Special mention was made of our sportsmanship and although we had plenty of bruised and battered bodies they all seemed much happier as WIlliam lifted the cup. It was an outstanding team display with each individual player making significant contributions. Matthew, Kara and Ethan tackled strongly with Matty in particular punching well above his weight. Jenson, Thomas and Wlll ran strongly all night with Deakon and Theo adding the finishing touches with their quick feet and eagerness to get over the line. We are beginning to run out of superlatives to describe this group of children. They were a pleasure to coach, supervise and watch. Thanks to Mr Mejaat for giving up his time to come along and thanks to all the spectators who came along and cheered on every member of the team!