City Champs...Again!
City Champs...Again!
24 May 2016 (by admin)
Our Tag Rugby team achieved a special feat as they were crowned City Champions for the first time ever!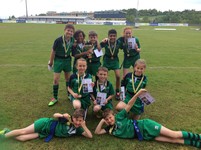 Led by inspirational performance from Theo and Deakon who scored 12 tries each in the 7 games, Lower Wortley finished first out of the 20 qualifiers from all over the city. In the groups stages we began with a 3-0 over Carr Manor with Kara scoring twice. 4-0 and 3-1 victories over Westerton and Westgate followed before we were held to a 5-5 draw against Grimes Dyke. This saw us top the group and qualify for the quarter finals where a comfortable 5-1 victory over Rawdon St. Peter's was the outcome. The semi final was another easy win (5-2 over Immaculate Heart) with Matthew, Jenson and Ethan scoring tries in these games to back up Theo and Deakon. We knew the final would be much tougher and despite falling behind a hat trick from Theo and two tries from Deakon inspired us to a 5-4 win - an inspirational tag from Kara sealed the game in the last minute. Despite the heroics from the afore mentioned players it was a real team effort with Megan, Liam, Elle and William taking plenty of tags off as they contributed heavily to the win. The team now go on to represent Leeds at the West Yorkshire school games in July.