Year 4 & 5 Reach City Semis!
Year 4 & 5 Reach City Semis!
17 May 2016 (by admin)
In an attempt to emulate their peers from last year, our year 5 rugby team reached the Leeds semi finals with a narrow win over Morley Newlands.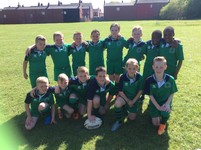 Each player played their part as a huge amount of effort and determination mixed in with some excellent skill saw us overcome an older and bigger Morley Newlands side with a 4-3 win. Ayomide was the undoubted star of the show with a hat-trick of tries while Theo also crashed over from close range; however, it was the defensive efforts which proved the difference as we defended our line with passion and kept Morley scoreless for the final ten minutes of an energy sapping match. A trip to Rothwell in the semi-final promises to be a tough challenge however this group of children should be incredibly proud of what they have already achieved. Thanks to Mr Nowell, Mrs Armitage and Mr Mejaat for their support and also to our fabulous supporters who were as vocal and encouraging as ever.