Netball Joy!
Netball Joy!
18 March 2016 (by admin)
We qualified for the West Leeds finals with a strong performance at our latest cluster tournament.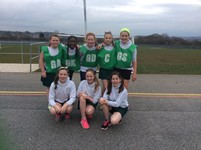 All the girls performed admirably to achieve 5 victories in total. The scores were: 9-1 v Lawns Park B 1-0 v Greenhill 5-0 v Lawns Park A 4-0 v Ryecroft 6-0 v Cobden The girls worked superbly well as a team with Abi finishing as the top goal scorer. They will look forward to performing at the next level of competition after Easter. Thanks to all parents for your continued support and our dedicated staff for coaching and preparing the team.