Future Wimbledon Stars?
Future Wimbledon Stars?
12 February 2016 (by admin)
We entered our first ever tennis competition this week! Click to read a report of how the team got on.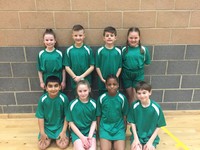 A Year 3/4 and a Year 5 team comprising 2 boys and 2 girls each visited Crawshaw to take on 3 other schools. The children had only had a small amount of practise as our tennis equipment only arrived in school last week. Despite the lack of preparation, they performed admirably against some strong teams. Lucy and Folasade both won all their matches to finish top of the Year 3/4 girls table. The other teams all finished in third place with each child winning and losing one or two of their three games. We finished 2nd overall in Year 3/4 and third overall in Year 5. Thanks to Mr Logan and Mr Nowell who supported the team and also to all families who came to cheer us on. We now have big plans to host a Wimbledon competition in school for all children in the summer. Finally, Mr Logan has asked me to mention what an absolute pleasure it was to take this group of children out of school. They were delightful and a credit to themselves and the school. Well done everyone!