Awesome Athletes Soar to Success!
Awesome Athletes Soar to Success!
30 January 2016 (by admin)
Our athletics team reached the City Final of sportshall athletics for the first time ever in a memorable night at Leeds Trinity University!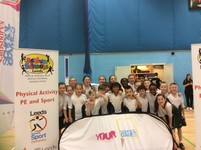 It was an excited team which left Lower Wortley full of hope rather than expectation. We knew the champions from the other areas of the city, mostly from much larger schools would provide a tough test having reached this stage of the competition for the last 6 years. Lower Wortley parents, siblings, grandparents and friends packed out the spectator area to cheer the team on. We had mixed success on the track with a variety of 2nd and 3rd place finishes and a few 6th places where the children performed admirably but were just up against faster runners. The highlight was a 1st place for Faye and Rachel in the 6 lap event where fast running, determination and slick changeovers saw them edge home in front. The effort everyone put in was admirable and could be seen on every runners face as they ran past. On a number of occasions sheer grit and determination saw us earn a place from another team by passing them or holding on close to the line – these would prove to be very important. Our strength in the field events was praised by the organisers as Theo and Faye flew to lengths of over 6m in the triple jump and Deakon threw the javelin further than anyone else in attendance. Despite naming some squad members, and having some rare talents amongst this group of children, this was a real team effort with everyone contributing in their own way – without every member of the team this wouldn't have been possible. As the results were read out in reverse order most of us were hoping for a 3rd or 4th place finish. After 5th and 6th had been announced as Westerton and Garforth Green Lane, it was said only 6 points separated the next 3 teams. This meant we were as close as we had ever been to qualifying for a final. Richmond Hill were 4th and we already knew Bracken Edge were miles in front as winners. It came down to 2 points (or one place in one event) between Horsforth Newlaithes and ourselves! And we did it! Just! The excitement amongst the children, staff and spectators was unparalleled, partly due to the achievement and also because of the level of competition we knew we had competed at. The children were a credit to school in the way they performed but also the way they behaved and represented Lower Wortley. Thanks to all the staff and families who came to support us – the loudest fans as always! You gave us that extra energy to make it! It was a late finish; some people didn't get home until 7pm…but no one cared! We now return to Trinity on Thursday 11th February as one of the 4 best school in Leeds!