Amazing Athletes denied!
Amazing Athletes denied!
12 January 2016 (by admin)
On an amazing Thursday just before Christmas our athletics team took part in the West Leeds finals - click to read how they got on.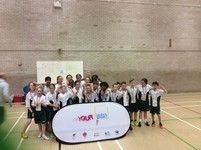 In an event which has been dominated by ourselves and Springbank in recent years 2015/16 was no different. They had the edge in the track events whereas we were comfortable winners of the field events. In the end, even though, we scored almost 100 more points than third place, we had to settle for runners up spot, agonisingly only 10 points adrift of the winners. The consolation was that we won a place in the City Semi-finals so can do it all again in January. Special mention must go to all the children who went straight from athletics back to school to perform in our pantomime! You are all amazing! Finally congratulations to team captains Faye and Theo who were presented with special awards for being the outstanding athletes in the competition. They both jumped over 6 metres in standing triple jump - a feat never before witnessed in this age group by the High School teachers present! One last thank you to our enthusiastic supporters - you were brilliant as usual!