Future Rugby Stars!
Future Rugby Stars!
12 January 2016 (by admin)
A team of 19 Year 3 and 4 rugby players enjoyed their first chance to represent school as they visited Bramley St. Peter's Primary School. Click to read more.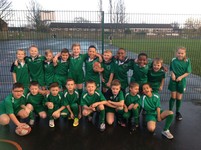 The Year 4 enjoyed a fiercely competitive contact match against a team including two of Jamie Jones Buchanan's sons and Mr Rowney's son! Lower Wortley prevailed with an 8-6 win. Each player made a worthy contribution to the victory either by scoring tries, making tackles or running hard and fearlessly. The Year 3 tag rugby game was organised chaos to begin with; however, settled down into a great game. Again, we were victorious although the exact scoreline was impossible to come by. This was a great chance for the children to put into practise what they have learnt in PE and after school clubs and they should be extremely proud of themselves. Thanks to Bramley for hosting us and to all the parents and teachers who came to watch and support.