Netball Domination!
Netball Domination!
16 November 2015 (by admin)
With a full strength team the Year 6 girls annihilated all the opposition placed before them!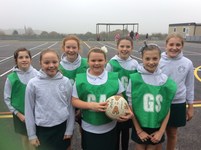 A 6-0 win over Ryecroft got us off to a fine start before a 7-0 success against Lawns Park which was followed by another 6-0 win over Greenhill! Unfortunately the light faded before we had time to play against Cobden but the girls won the whole tournament comfortably and look poised to qualify for the West Leeds finals for the seventh year in a row!