The school opened on the 8th April, 1872, in temporary premises leased from the trustees of the Bull Ring Primitive Methodist Society. The lease was for one year after which the tenancy was terminable at 3 month's notice. The schoolroom was to be used until the proposed Board School was built. The schoolroom adjoined the chapel and had been built in 1856. The infants had to be taught in the chapel itself due to lack of space.
When the inspector reported on the school in 1873 he found that the premises were 'very unsatisfactory being low and badly ventilated', he requested more suitable premises with as little delay as possible. One tenth of the grant was withheld in 1874 for this reason. New buildings were not provided until May 1876.
The first headteacher, Margaret Walker did not stay long, leaving in July 1872. Her successor, Sutcliffe Hanson, seems to have been a disciplinarian, caning the pupils regularly. There were many 'half timers in the school, working at Farnley Colliery and 'the mill'. The inspector noticed that 'children in this part of Leeds leave school at an early age to go to work'. The following entries in the log book reveal some of the problems: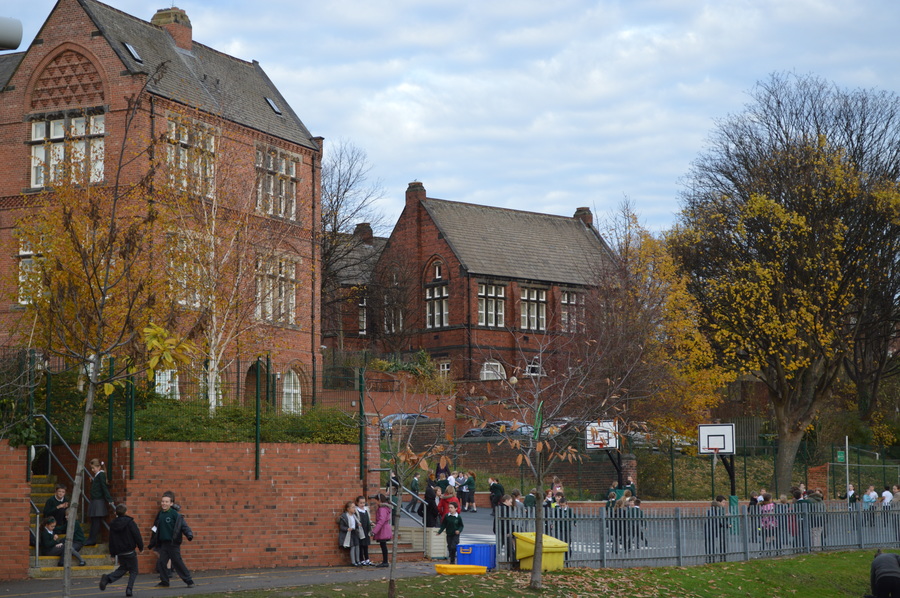 September 25, 1873
Sent James Hobson with a note to his manager (pit) about bad attendance, but he tore it up on the way. Sent him with a second and he did not return to school.
October 24, 1873
Thrashed Simon Birkby, James Roberts, Joseph Dawson, James Hobson for coming late in afternoon.
Sutcliffe Hanson withdrew from the school in April 1876 just before the move. His successor, William Blain, was shocked on taking over to find the number of pupils in Standard 2 who were unable to write their names. The number of pupils increased rapidly over these years, doubling between 1876 and 1878 to about 300. The new building was soon too small. The HMI report for 1876 threatened to withdraw part of the grants as the infant's classroom was too small. It was withdrawn the following year as the room was so crowded that the children could hardly be examined.
The solution reached in May 1882 was for the boys under Mr Blain to return to the Bull Ring chapel schoolroom and for the existing building to be restricted to girls and infants only. Emma Gilling took charge of the school. One pupil teacher was dismissed for theft. Plans for an additional school building were approved on 16th March 1883. Boys from greenside and Miss Gilling's department were also transferred to the new school on 29th September.
The boys and girls departments were combined in a mixed school in 1926. All departments were united under one headteacher on 17th April 1972.